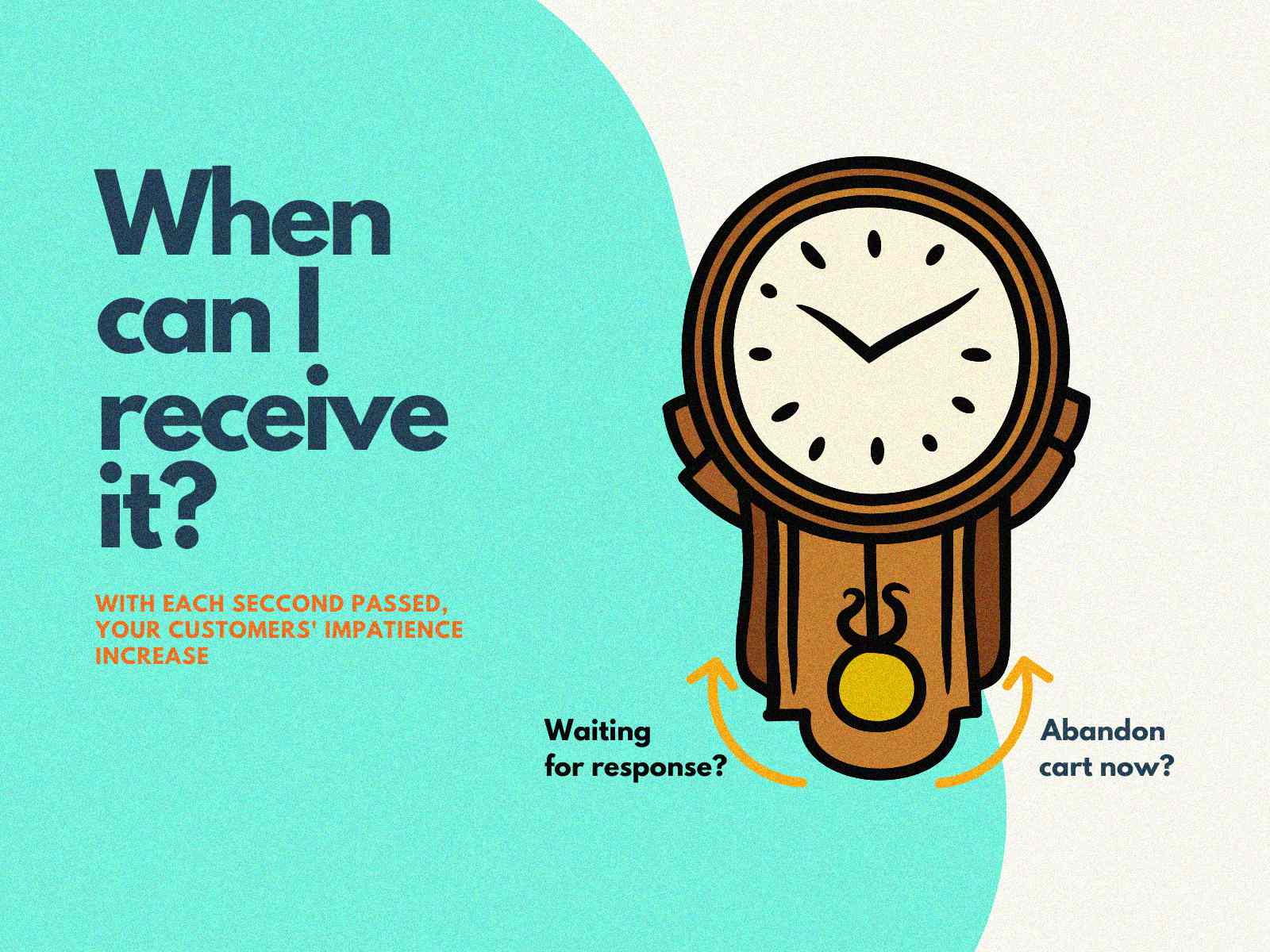 In fact, customers are very sensitive to the information you display in the store. Does the design and posting of promotional products make customers feel excited to make a purchase decision? Psychological aspects are the internal factors that influence consumer behavior and are divided into four categories: (a) motivation, (b) learning, (c) perception, (d) beliefs and attitudes (for products). Everyone has different needs, with varying degrees of severity. In particular, customers buying online are more susceptible to emotional influence by what they see, the information they capture. 
Customers love your products, they have needs, their experience feels that they can trust the origin and quality of the products you provide, they also have confidence that the shipping unit will ship the item properly because you have cooperated with famous and reputable shipping companies. However, they will not know when the estimated shipping date is?
When customers need to buy items prepared for the occasion with a predetermined date, they find your store - oh, this is what they need! But how to know when the customer can receive the order? For sure then the chatbot or live chat windows will always be useful and respond to customers as quickly as possible. Will all guests with the same question send messages via LiveChat? Hmm…
How convenient it is whenever a bride wants to order a wedding dress that she can immediately see the expected delivery date before the wedding without leaving a message ''hello, I need to buy a wedding dress and I want to receive it before July?''. Even if customers want to buy furniture to decorate their apartment before Christmas, they will feel very secure and satisfied when the expected date of delivery is displayed next to the price line of that product.
To do this, how easy it is when you own the stores on eCommerce platforms such as Shopify. You can play around the app shops and search for some apps, for example, the Estimated Shipping Date by Omega (put link) in your store. After following the simple installation steps you will see the difference right away.
Whether your store has a variety of products, collections, or multiple suppliers, you can completely adjust and set expected delivery dates across all of these objects. You will no longer have to wonder and suffer to answer each customer even if you are in a dropshipping business. Information about the expected shipping date is displayed from the product page, shopping cart page, check out page, even the confirmation email, so the customer is completely proactive in capturing the information without having to reach you too many times for the same question.
In addition, not only beneficial for the convenience that customers can receive at the moment they visit your store but using the Estimated app also helps save manpower and customer response time - which greatly affects the speed of customers purchasing decisions. Your staff doesn't need to remember or use a shipping time metric for every customer around the world because right on the product page, they will be cleared of that doubt.
In conclusion, the more information you build in your store, the more attractive new customers come and place the orders. Being transparent about estimated shipping times is a must in an eCommerce store, let's try to become more complete to recover the abandoned shopping experience.