Tip 1: Include a descriptive subject line
"Your order has been shipped!" seems to be the most common subject email but it's not the best. Intelligently adding dynamic fields to make everything more precise should be what you are looking for. Write something like:
Hey, [Customer Name]! Your order # [Order number #] from [Store Name] has shipped!


This provides the consumer with all of the information they require. It raises the chances that a consumer would read the email to track their package rather than dismissing it as spam. It also puts identifying information like the order number in the spotlight.
Tip 2: Highlight your store's logo
Although including your store's logo and banner, as well as font colors, maybe an irrelevant detail, it significantly elevates your brand's image in customers' minds. High-quality shipment notification with the store's highlighted logo can add the finishing touch to a positive customer experience, especially when the order is delivered as estimated.
Tip 3: Hyperlink to the "Track" button linked to your branded tracking page
Having a tracking number is sufficient, but copying and pasting it into a carrier's website can be tedious for your customers and lose your brand awareness. The majority of people view shipping confirmation emails on their phones so hyperlinking the tracking number to the "Track Order" button that redirects to your branded tracking page will provide convenience and benefit your brand image. Click here to create your own tracking page.
Tip 4: Order Item Detail
Make your customers more excited about their recent purchase by including an image of what they just purchased in the shipping confirmation email. 
Usually, customers remember what they buy, but a snapshot of the item(s) makes it easier for them to retrieve information about their order. Plus, they can effortlessly pull up the email and show their friends what they purchased. That also highlights your brand further.
Make sure to include order ID, item(s)/variant(s) like (size,color,quantity,etc), Address and billing information.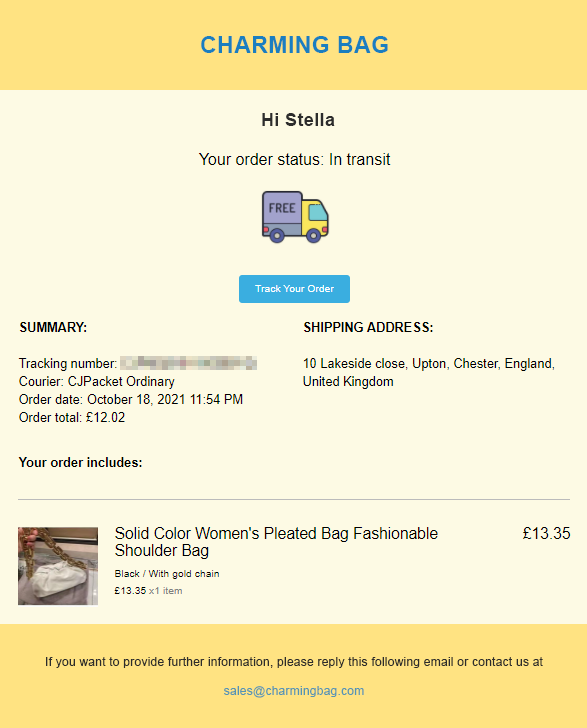 Tip 5: Support resources
Having trouble accessing support when something goes wrong can be extremely frustrating for a customer. To avoid it,  customer service should be conveniently located under the heading "We're Here to Help," so there's no question about where your customer should go if they wish to speak to someone. For example:
Please reach out to us if you're worried about receiving your order in time. You can email us at This email address is being protected from spambots. You need JavaScript enabled to view it.
The main purpose of shipment confirmation emails is just to pique a customer's interest in their recent purchase while also offering them the resources they need to track their order. However, by using the appropriate blend of detailed information and the brand's image, your shipment status email might even be a key touchpoint in your customer retention strategy.
To know the best Shopify apps collection, please go to this site