In fact, 56 percent of shoppers actively track some or all of their purchases as they await their arrival (1). This help ease customers' minds while they wait and gives them an activity to direct that anxiety and excitement.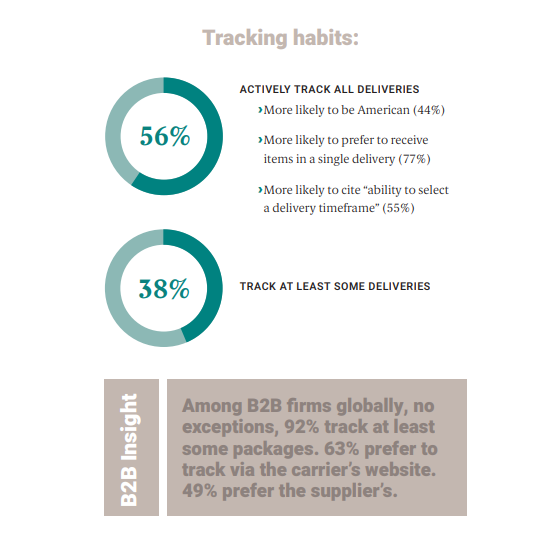 So what is the solution to reduce customer obsession with tracking their package?
Just an email/just-in-time notification about order tracking status from sellers can resolve all issues. Despite being a little step, order updating notice still gains significant feedback from customers. How this can help customers so much?
Customers save time and money on tracking order status when being well informed




The estimated delivery time of the most popular couriers in the world (2)

As we know, the basic period for customers to receive the package from foreign countries is about 7 - 16 days without delay. That is a long time period for both customers and sellers to communicate with each other about order tracking. Customers must contact sellers every day to update their new order status. 

It seems to be a relentless process. Both sides will waste time if there is just a little lacking correspondence in information. As buyers, you don't need to call or wait for a response from customer support daily. The customers feel satisfied enough if they receive automated messages from the order tracking system at some important checkpoints - not the whole time process. Let's save your time and be relaxed to wait for your shipped packages.

Buyers are provident in receiving their package to reduce risk

In reality, customers are likely to know about the order tracking status in real-time. It brings the feeling of control over everything. What will customers do if they opened the email and see your order will be transported into your town in 1-2 following days? Although it is an estimated time, the customers can be more prepared for parcel arrival. They will rearrange their schedule and be no more passive when the shippers call. It also prevents the loss rate from package theft if customers are not at the home right time the orders come.

Package theft is a growing problem across America as 36% have reported having a package stolen at least once. (2)
Customers feel more trust when being in the loop of information from one brand order tracking page




When using the order tracking system, all tracking notifications will send from your shop, it can build trust from purchasers. Customers do not need to check on other courier websites. 
Customers even can ask the shop for the tracking numbers of their parcels then check themselves easily. It seems to be more convenient for customers. They don't need to jump into 2-5 tracking websites of different couriers.


In summary, from point of the customer's view, the order tracking system can solve most of the issues related to tracking obsession. It not only relieves the waiting anxiety but also builds the trust of the shops. In the long term, the automated system gives buyers a better post-shopping experience.
Reference:
UPS Research: UPS Pulse of the Online Shopper Report.
How long does international shipping take? by Easyship.
2020 PACKAGE THEFT STATISTICS REPORT by Crresearch.