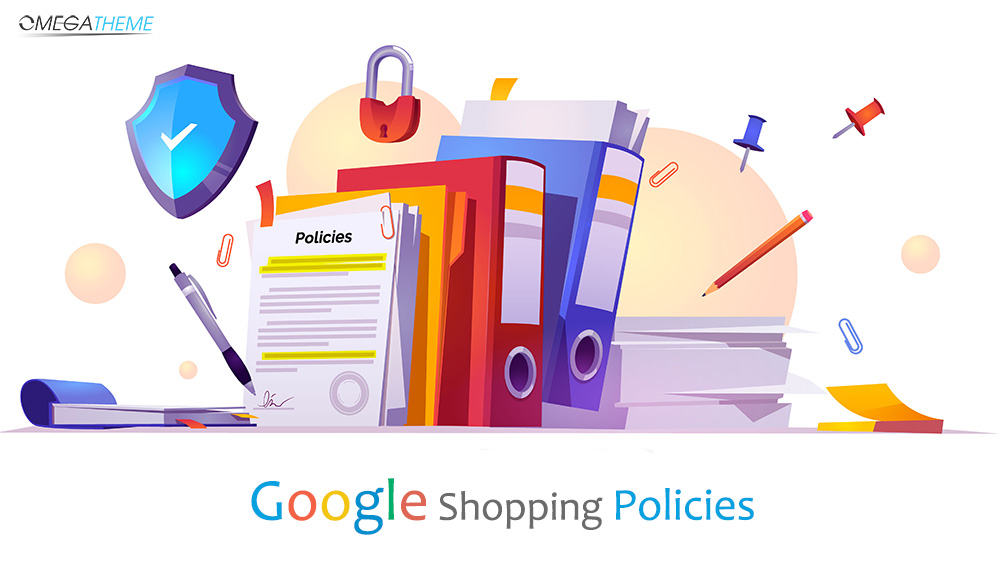 Sellers often raise questions about why Google suspended their account, what exactly they are violating. In this article, you will understand how Google works on your account, recap as well as check out the most popular cases of violating Google shopping policies and get a checklist for your business to comply with it. 
How to know your GMC account is warned or suspended? 
In the situation that you are violating Google shopping policies or data quality's requirements, a warning or suspended email will be sent to you with examples or all relevant information of your issues. You can also see these information on the Diagnostics page of your GMC account. 
For warning cases, Google will set a timeframe for you to fix the issue if your product data is not compatible with their requirements.
For suspended cases, you will need to ask Google to review your account and submit your appeal form 
What types of disapprovals will you see in GMC? 
Account warnings and suspensions

Preemptive items disapprovals

Automatic item disapprovals: if you just uploaded your products and immediately get disapproved, this is because of this automatic system. It detects 24/7 and if your products  miss required information, it will automatically disapprove them.

Temporary items disapprovals
Refer to Google feed management best practices to see how to manage and optimize your feed data.
Most of the cases, the reason to be suspended is because of violating shopping policies, not quality data, so what are they? 
Recap of Google shopping policies
Google shopping policies include 4 areas: 
Prohibited content
Prohibited practices
Restricted content and features
Editorial and technical
From Google, you can see all lists of content and standards of each policy, however, in most cases, sellers do not cover all those areas and violate them. Below are the most typical situations: 
1. Prohibited content: Counterfeit products 
If you are imitating a famous brand, for example, instead of using Nike (a very famous brand name), you use Like, Mike or use a logo style that can mislead the customers to Nike brand, tweaking a name, using similar terms and trick your customers, you account will immediately suspended. 
Google will consider it more serious than trademark and copyright because you know it violates the policy but you still try to cheat the system. 
2. Restricted content and features: Copyright and trademarks
This means you use the same song lyrics, photo/image of celebrity, brand trademarks (logo, name). To sell products from these brand, you need to provide the certification or agreement to advertise. 
3. Prohibited practices: Abuse
Incomplete checkout: this will give a bad user experience or can be seen as a fraudulent way to collect customer's information  

Page that is a copy for another page: if you create many pages and selling the same or similar products on purpose, Google will suspend all, except the first page created because it will harm the trust and competition of the market. 

Use dynamic DNS/IP to switch pages and products
4. Prohibited practices: Irresponsible data collection 
Unsafe data collection over non-SSL website: it must be https domain, for Shopify store, you do not have to worry about this point, because all Shopify domains are in https type. 

No clear Privacy Policy to regulate use of collected users' data: describe details which information you collect from your customer, how you use and archive customer's data. 

Resell users' data to other parties 
5. Prohibited practices: Misrepresentation 
This one is the most common case that sellers often encounter, this kind of violating policies will not be clearly stated that you are suspended because of misrepresentation like the above, it will inform you in the general words like because of highly suspicious/ shopping policies/ untrustworthy. It will be one of the following reasons: 
Unclear billing/ payment terms, hidden costs & hidden obligations: don't add any hidden cost at checkout, be clear for any prices that you will add when customers buy your products. 

Failure to disclose all information to influence purchase decisions: you should provide customers clear shipping time and exceptions, also clear refund/ return guidelines and expectations. Make sure this information is up to date. 

Inconsistent promotions and pricing, fake promotions and deals: you should provide detailed information of this campaign including what, when and how much right on this product or in the payment terms and conditions page. 

Use of false claims, fake endorsements, unverified statements: don't guarantee 100% your products or state anything 100%, don't claim fake certifications or use fake countdowns. 

Fake business identity: Google will suspend if you use a fake address, fake hotline and fake customers reviews. 
Checklist for your business to comply with Google shopping policies: 
In conclusion, before asking for an account review or updating an appeal form, make sure you have checked all the details and match with Google shopping policies: 
Consistent contact information: must include at least 2 amongst phone number, physical address, email 

Clear payment terms and payment methods: no hidden cost, no unsecured gateway (non-SSL), no 100% safe

Clear Privacy Policy and Terms & Conditions: get the template for free on Shopify by its

privacy policy generator 

Easy to follow refund and return process: clear guidance and terms, clear timeline, step-by-step process

Clear shipping information: keeping your information updated subject to any changes of your logistics

Clear promotion language: no false/ unverified product claims, no "100%" language, no confusing/conflicting deals, no fake reviews

High quality products: good customers reviews on third-party websites 
Once you understand clearly Google policies and requirements, there will be no reason to panic when your products or accounts are disapproved, you now have your way to fix it.