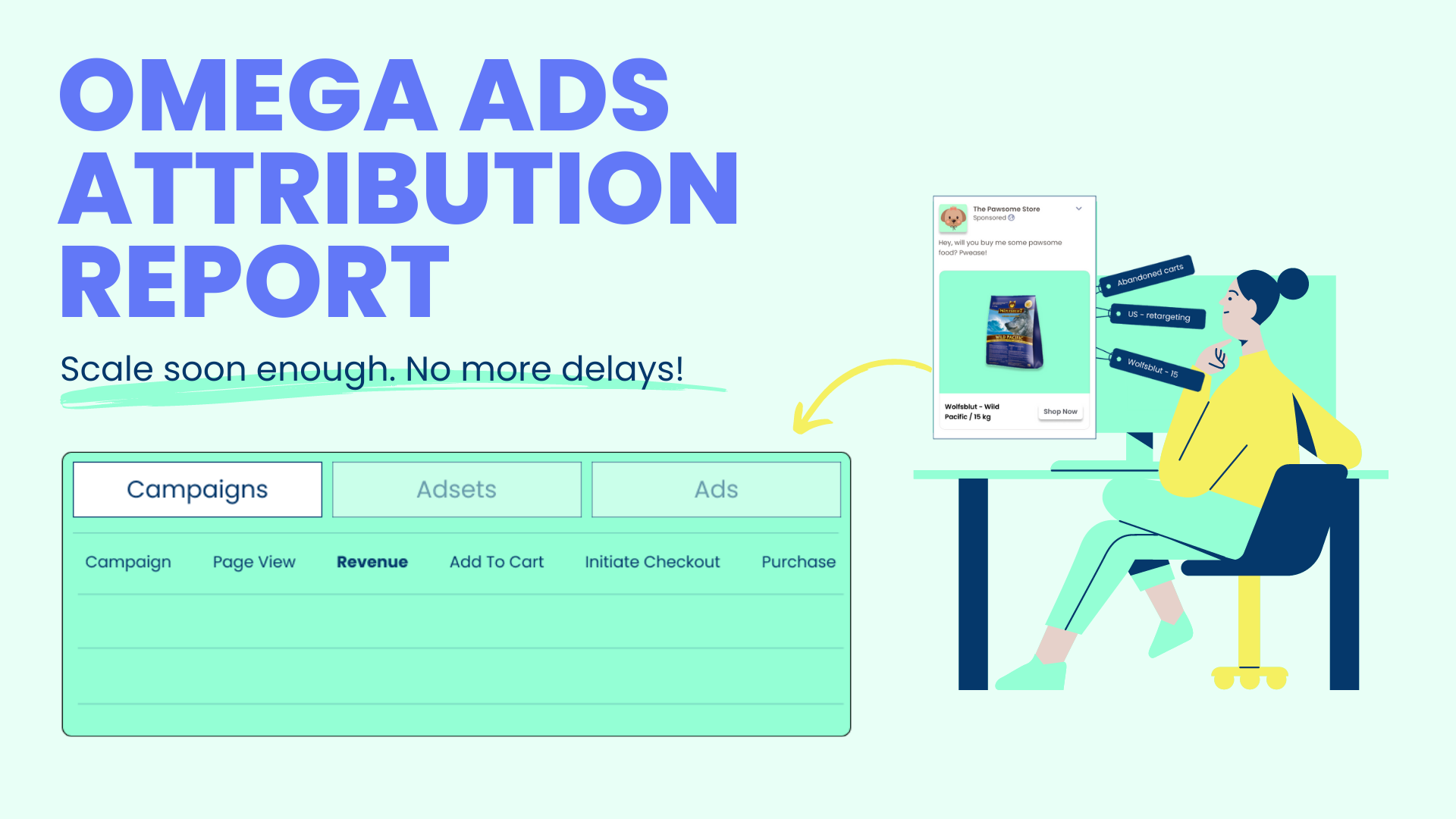 How could my Facebook Ads Manager report be this bad? If you're scratching your heads about this every day, then read on!
Juggling Shopify Analytics and Google Analytics to tell which ads got the sale? Stay here, you're the perfect audience for this article.
Let's dive right into the most burning questions in your head:
Is Google Analytics still worth it?
Short answer: Yes. Ignoring GA as a single source of truth to benchmark all your marketing effort could be a costly mistake.
Thinking about resorting to Shopify Analytics only? I bet you'll have to think again. It's no coincidence that someone said you could think of GA as a classic novel, while Shopify as a summary of the book.
But this is the book you still have to "buy" and chew on.
Here's why you can't ignore Google Analytics:
Well, if you're not data-savvy, charts and tables aren't a lot of fun. But if you're to scale your store based on fact, not guesswork, you'll for sure have to learn this.
Where are they coming from? How much time are they spending on your site? Where are they dropping off the most? What products are performing? The list goes on.
The good news is that installing GA to your Shopify is free and easy.
Check their official document here.
The thing is the above only works for pretty the standard setup. If your store has some customization, you might need some developer help to set this up. In fact, an unfinished setting is one of the most common reasons why your GA data seems meh.
Developer help could be a big ask if you're a one-man business owner wearing all hats.
You know this, but the question of which Facebook ads got the sale, today, is still hanging...
So you champion the Shopify UTM report.
Something that looks like this in the Sales Attributed to Marketing tab.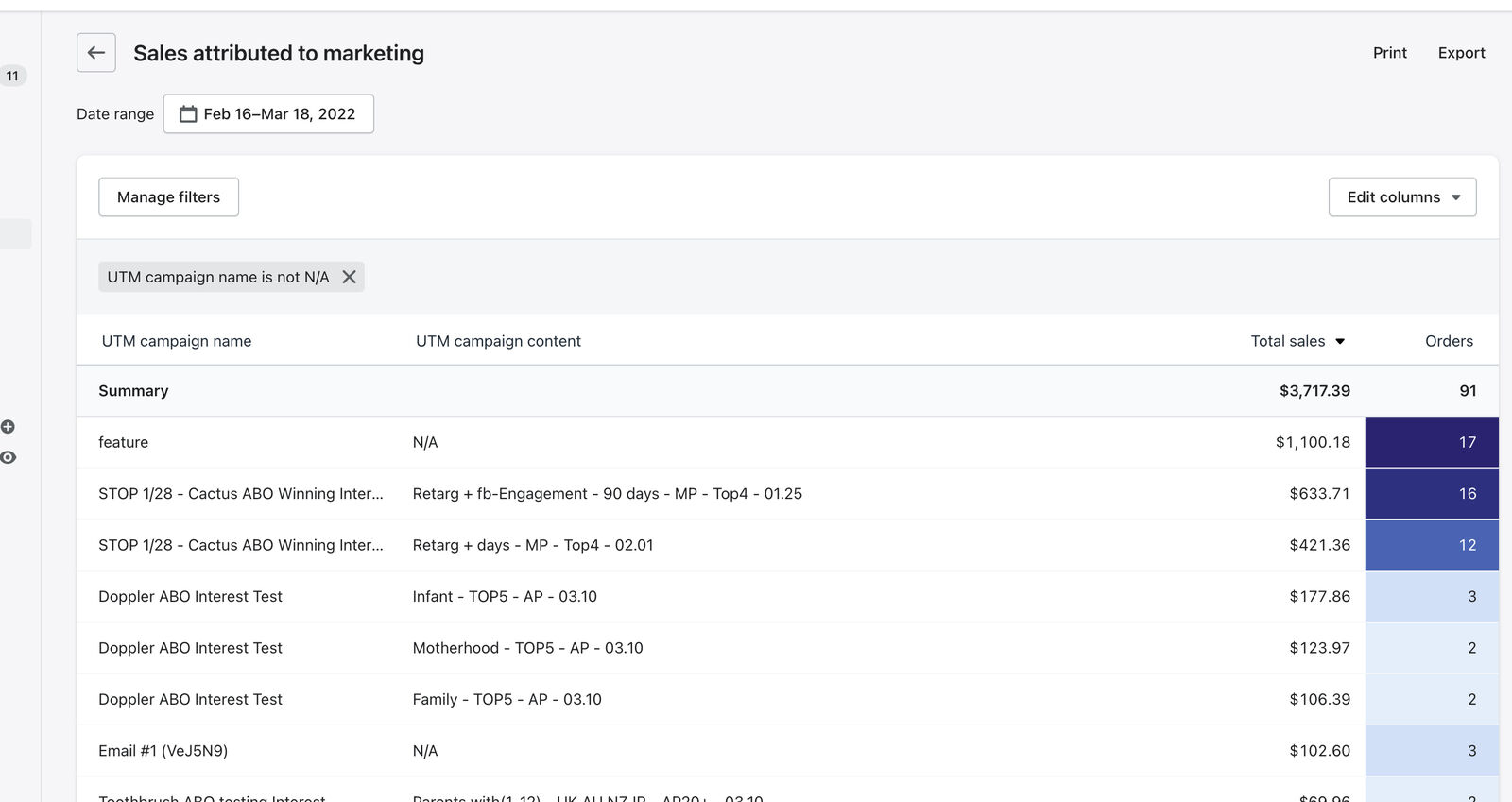 If you've spent time setting up UTM parameters for your Facebook ads, you'll at least see something here.
But, this looks nothing close to the Facebook Ads Manager's friendly UI. You'll have to sprint the eyes to tell the difference between campaigns. There is no grouping and categorization here.
Now that we're talking about Facebook Ads Manager, know that Facebook has its own delay. Even if you've set up your Conversion API and Pixel alright, you still have to wait, sometimes or most of the time.
Looking left and right for a solution that both saves time and doesn't have a steep learning curve? It's time to look inside.
Chances are you've already got Omega - Multi Facebook Pixel installed onto your store. If not, try it first.
The main difference is you only need to copy a string of UTM parameters into your Ad every time. Leave the rest to us.
The perks of using Omega Facebook Ads Report
Superfast reporting: Know which ads got the sales in almost real-time, we mean it.
Order report: See a list of which orders are coming from which campaigns. You even are able to view the order detail. Compare that with the conversion details that Shopify provides if you wish.
Sales notification: Where you would glue your eyes to the most, because the moment you nail a sale, it will pop up here.
In short, you got better and faster attribution.
That's what Omega Facebook Ads Report is. Here's what it is not:
It's not a direct ad optimization machine. So we would never advertise this in shiny words that promise to bring you more sales.
Here's what Omega can promise: you get a host of actionable insights by sending proper events and reading timely reports.
How is Omega Facebook Ads Report different?
Some heads up:
Shopify is session-based. Meaning if I make 2 purchases within 1 session, you'll only see 1 session converted in the UTM report.
Omega is event-based. This means you'll see 2 purchases attributed to campaign A right away.
You might see some discrepancies between Omega data and Shopify Analytics data. Most of the time, data platforms don't speak to each other in the same language, so don't worry about this. But reach us for a thorough check!
How far can Omega tell if my ads are responsible for the sales?
You can look into the past for as far as 60 days. The attribution window is 14-day by default but adjustable.
TL;DR? You don't have to leave GA - know that it takes a bit of resource to set that up and running alright on browser and server. You don't have to abandon Shopify UTM analytics - but know that it has its limit and pricing plans.
They said don't put all eggs into one basket, in eCommerce, it's even more so. Put one in Omega!
We hope you'll scale with this.
Keep going!