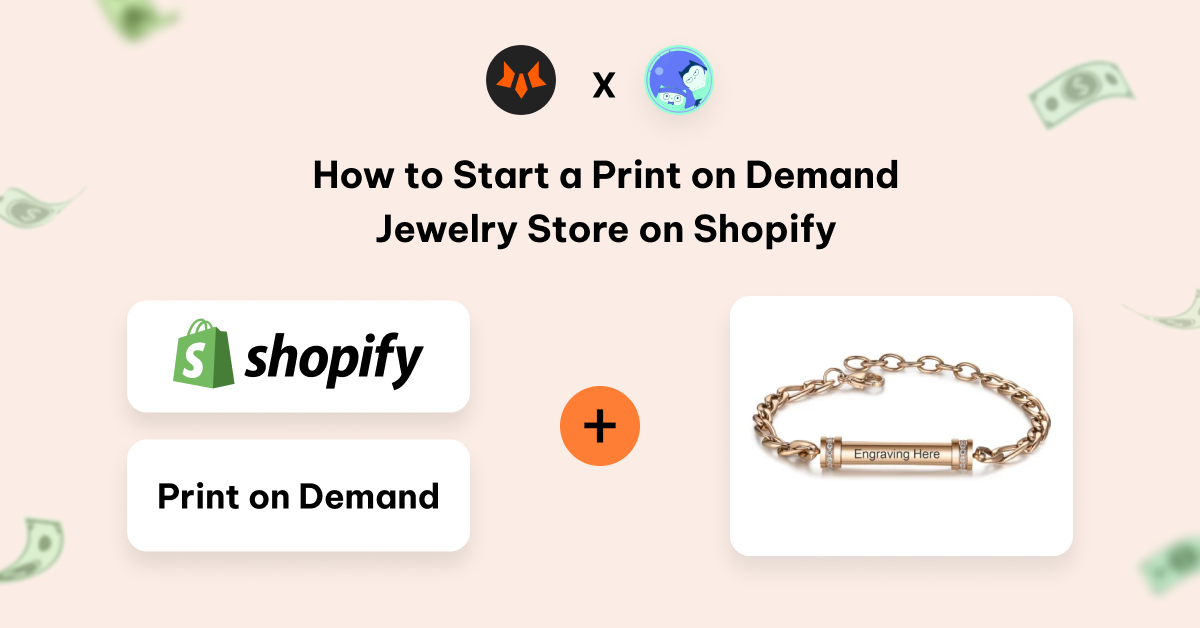 You might have heard of print-on-demand T-shirts, print-on-demand books, or print-on-demand mugs, but do you know that jewelry can also be a profitable print-on-demand product? 
It might seem unimaginable how to print jewelry. However, along with the development of technology, printed jewelry is no longer impossible. In fact, this is becoming one of the best selling products in the print-on-demand market. 
If you want to sell this lucrative niche but don't know where to start, this article is for you. It's the ultimate guideline that provides you with not only basic knowledge about print-on-demand jewelry, but also tips and strategies on how to start a print-on-demand business to sell jewelry on Shopify. 
What is print-on-demand jewelry?
Print-on-demand, also known as print on demand (POD), is no longer a strange eCommerce concept. It refers to the process in which merchants work with a supplier of white-label products to customize them once an order is placed, rather than pre-manufacture and store them in inventory.
Print-on-demand jewelry is no different. These customized or personalized jewelry products are crafted or printed on customers' orders and shipped directly by suppliers to customers. 
Print-on-demand jewelry involves the use of advanced printing technologies and techniques such as 3D printing technique to imprint personalized designs, patterns, or images onto various jewelry pieces. This can include pendants, necklaces, bracelets, rings, earrings, and more. 
The process typically begins with a customer selecting a base jewelry item and providing a decoration design. Then, the order is transferred to a print-on-demand jewelry supplier. Using specialized equipment, the supplier prints, crafts, or engraves the chosen jewelry piece, resulting in a unique and customized product.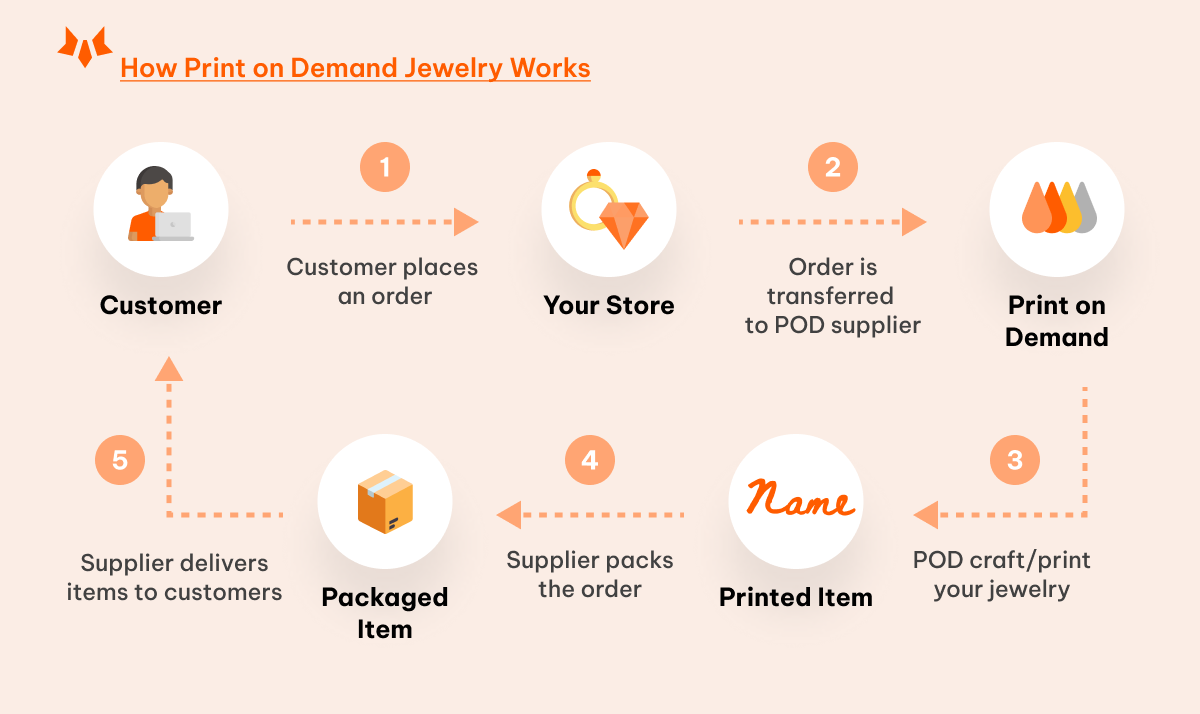 Why should you choose print on demand jewelry?
If you want to start a print-on-demand Shopify store or simply a jewelry store, print-on-demand jewelry can be a wise choice, as the printed jewelry market is anticipated to grow rapidly at a 13% compound annual growth rate and reach $5,650 million by 2026. Besides, it's also listed as one of the best selling products in print on demand Shopify market.
How can this niche grow like that?  The answer is because of its considerable benefits. 
Evoke buyers' interest
Print-on-demand products with the higher possibility of customization and personalization can evoke psychological ownership of buyers, which leads to increased customer loyalty, word-of-mouth referral, and willingness to pay, according to Harvard Business Review. 
With print-on-demand jewelry items, customers can express their individuality and style by choosing designs that resonate with them, such as names, initials, quotes, symbols, or even photographs. This level of customization allows for a deeper emotional connection with the jewelry, making it a meaningful and cherished possession.
A consumer review by Deloitte also found that 36% of consumers are interested in purchasing personalized products or services. Along with this, the survey also found that 48% of consumers are willing to wait longer for their customized product or service.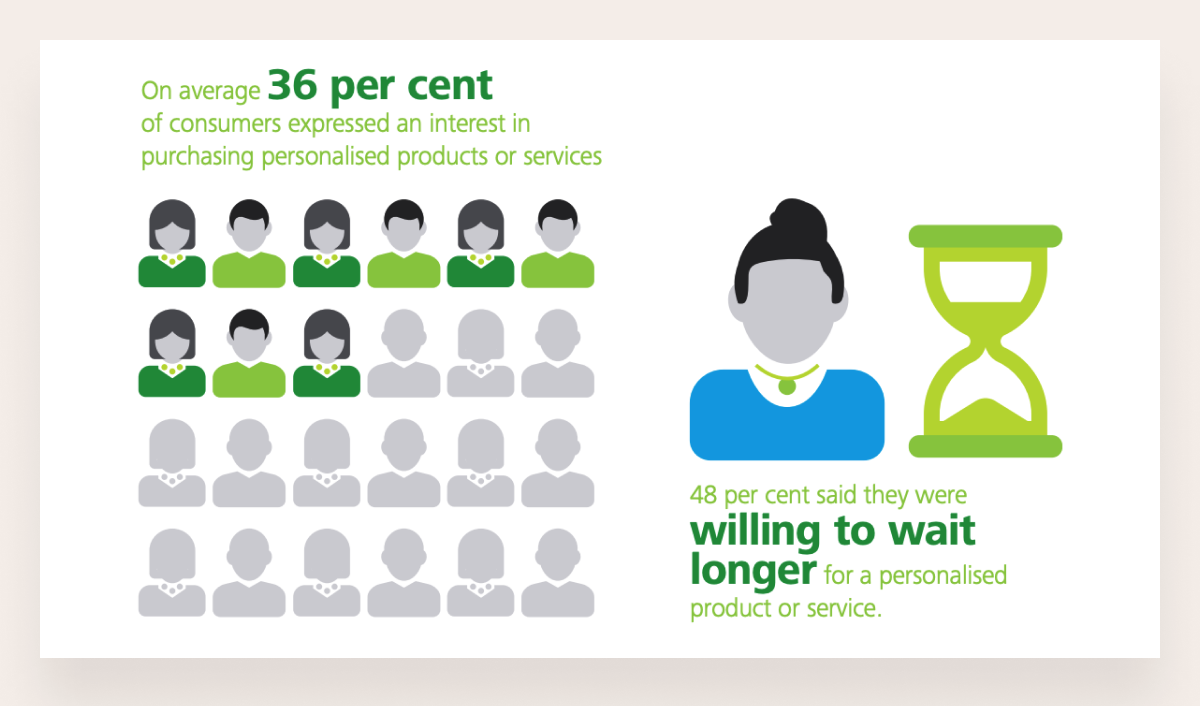 Image Source: Deloitte
Require lower investment
Starting a jewelry business traditionally requires a significant financial investment. Costs associated with inventory, manufacturing, and storage can quickly add up, posing a considerable risk for entrepreneurs. However, print-on-demand jewelry offers a compelling alternative. 
With print-on-demand, you can produce jewelry on-demand, meaning only create products when orders are received. This approach significantly reduces the initial investment required, as there is no need to purchase and store large quantities of inventory. 
Let's make a simple comparison to see the advantage of print-on-demand jewelry stores. To open a traditional online store jewelry business, you need at least $450 for website, inventory & package, and equipment.
How much does it cost to start a print-on-demand jewelry store on Shopify? 
Website: It will cost $29 for the basic plan of Shopify and $14 for a web domain. To fully design a store with stunning sections and sales-boosting features, you simply need a Shopify premium theme like

Zest

starting at $250.

Inventory: No cost. It's all processed by print-on-demand jewelry suppliers

Equipment: No cost. All manufacturing process is done by print-on-demand jewelry suppliers
Compared to the expenses to open a traditional store, the expense to open a print-on-demand jewelry store on Shopify is at least $150 cheaper. It's such a huge saving for new sellers!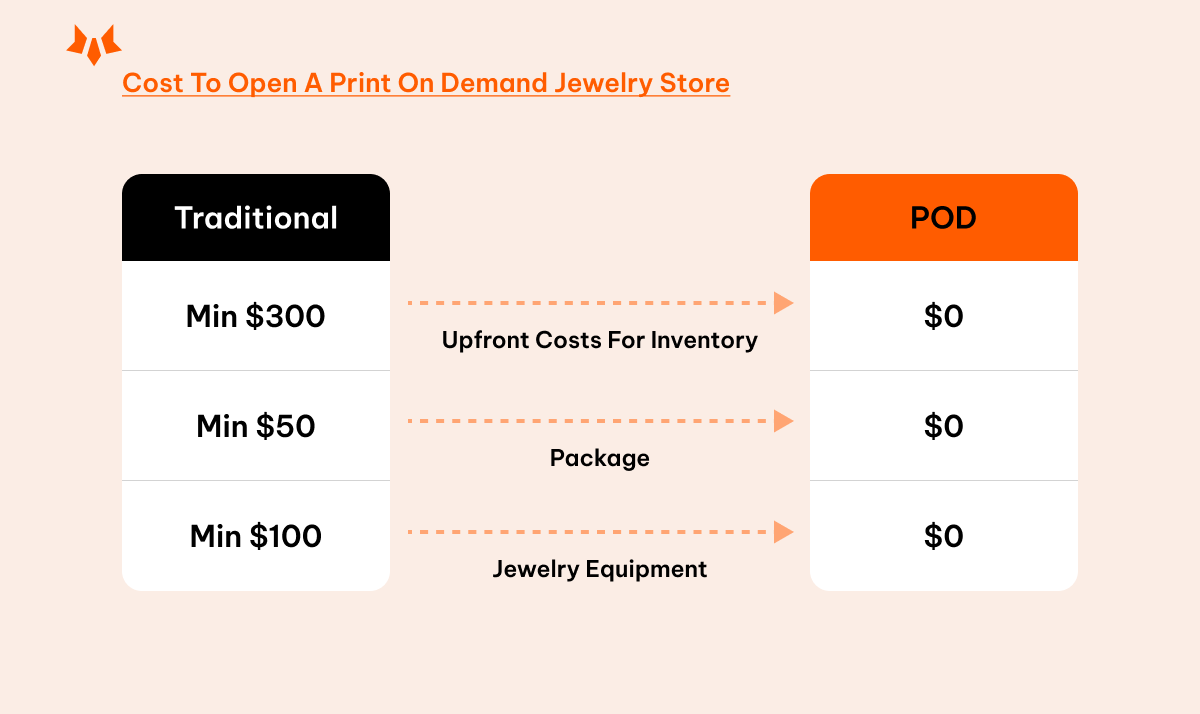 Eliminate inventory management challenges
Jewelry businesses, as well as many other businesses, always need to face common challenges in inventory management, including the inability to locate inventory stocks, outdated products, and overstocking problems. However, all these issues are eliminated in the print-on-demand business. 
As your products are produced only when a customer orders, you can limit outdated products and overstocking problems in your inventory. 
Besides, the print-on-demand model can also solve the biggest problem in the warehouse, which is tracking the products in the inventory that need to be shipped or transported to customers, since print-on-demand jewelry suppliers take charge of all the storing and shipping process. 
Create more complex items in a shorter time
Print-on-demand jewelry offers the advantage of processing more complicated designs. Traditional manufacturing techniques may have limitations, particularly concerning intricate and detailed jewelry pieces. However, with advanced technologies like 3D printing and laser cutting, print-on-demand jewelry can overcome these constraints.
3D print jewelry can be more complex in geometries and intricate designs than traditional jewelry. This technology allows designers to create unique and customized pieces that would be difficult or costly to produce using traditional methods.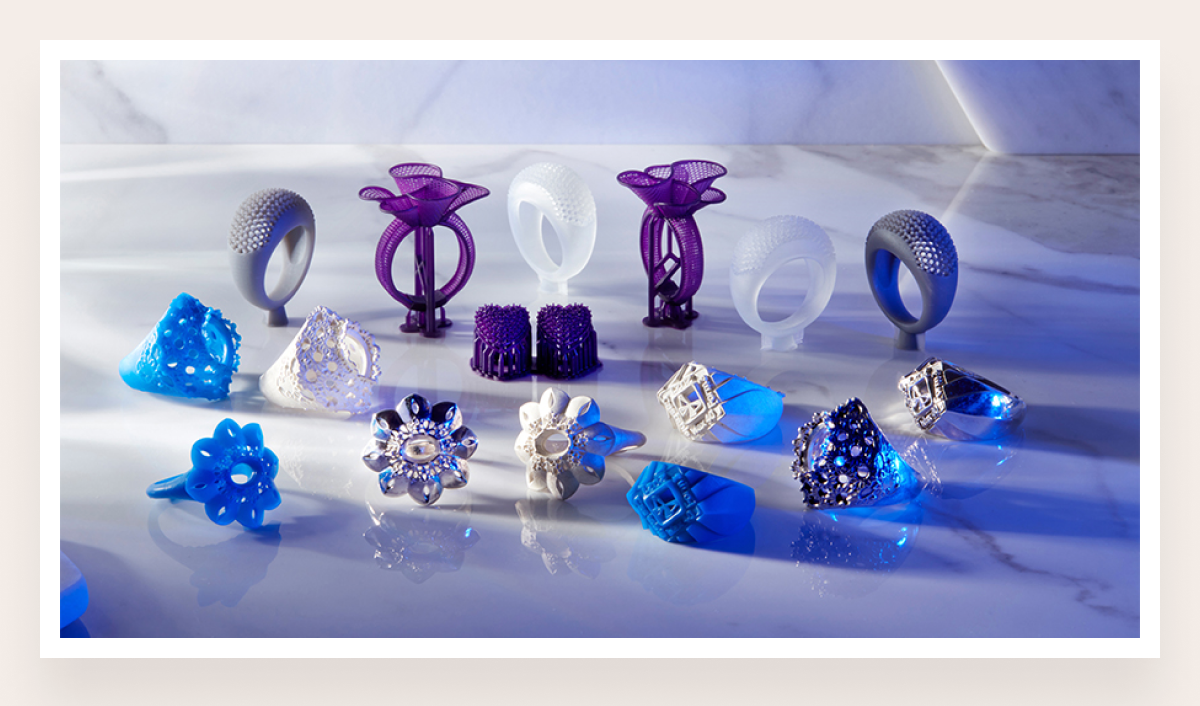 Image Source: Formlabs
The production time of 3D print jewelry is also shorter than normal jewelry products. While it often takes 4-6 weeks to make a custom jewelry piece by traditional method, it takes only a few hours or days to complete a 3D print jewelry. 
Thus, print-on-demand jewelry will save you not only time but also effort in creating complex custom jewelry. 
Challenges of POD jewelry model 
Lack of quality control 
The print-on-demand model takes advantage of print-on-demand jewelry suppliers, but it also needs to rely on them heavily. Thus, it leads to an unavoidable issue - quality control. 
As all the products are manufactured by print-on-demand companies and shipped directly to customers, you can hardly check the quality of your products. Poor-quality products may result in many serious consequences for your business. It can impact brand trust, loss of customers, or even legal issues. 
This problem of the print-on-demand model is difficult to tackle, but solvable, if you work with high-quality print-on-demand companies. In the next part of this article, we will guide you on how to find a trustworthy supplier for your print-on-demand jewelry Shopify store. 
Besides finding reliable suppliers, you should also take action on your side to ensure superb product quality. 
Provide clear design guidelines

: To maintain quality standards, provide clear and detailed design guidelines to your print-on-demand companies and suppliers. These guidelines should include specific instructions regarding materials, dimensions, placements, finishes, and other important design elements. By providing comprehensive design guidelines, you can minimize the chances of errors or misunderstandings during the production process, leading to more accurate and consistent results.

Order a sample

: It's highly advisable for you to order a sample. If you want to ensure high product quality, you must become your own customer so you can experience first-hand how your product is in reality. 

Conduct regular quality audits

: Frequent quality audits are effective to ensure ongoing quality control in the print-on-demand jewelry business. Periodically order and inspect samples from your print-on-demand companies to assess the quality and consistency of the finalized products. This proactive approach enables you to identify any issues early on and address them promptly. If you notice any consistent quality concerns, communicate your findings with the print-on-demand partner and work together to rectify the problems and improve the overall quality control process.

Provide detailed feedback

: When issues or inconsistencies arise, it is crucial to provide detailed feedback to your print-on-demand partner. Clearly communicate the specific areas of concern and provide supporting visual references or descriptions. Be constructive in your feedback, offering suggestions and recommendations for improvement. This open and collaborative approach fosters a strong working relationship with your print-on-demand partner and encourages them to prioritize quality control.

Conduct customer surveys and feedback analysis

: Another valuable approach to maintaining quality control is to collect feedback directly from customers who have purchased your print-on-demand jewelry. Conduct customer surveys or encourage customers to provide feedback through online reviews or feedback forms. Analyze this feedback to identify any recurring quality issues or customer concerns. By understanding the customers' perspective, you can address their needs and expectations and work with your partner to improve product quality based on their feedback.
Shipping problems
Even when you don't need to deliver products yourself, shipping is still a complex issue in the print-on-demand business. Some common issues you may have include shipping delays, package loss, and package damage.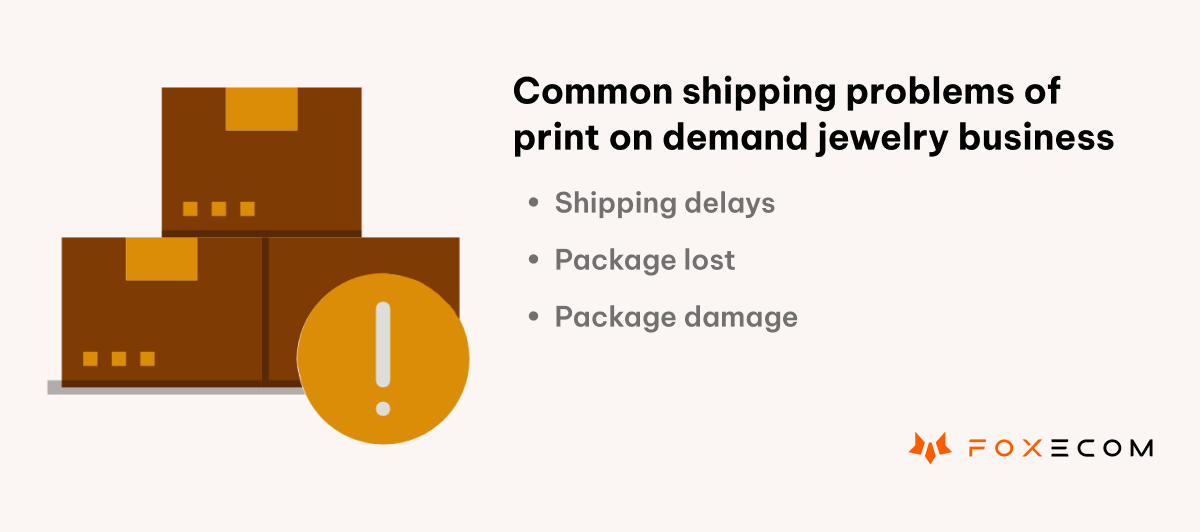 To deal with shipping delays, it's important that you partner with reliable print-on-demand companies and shipping providers to ensure the shipping time and quality. Then, be transparent about your shipping policy, and be proactive about sharing information on any potential delays with your customers.
To mitigate the risk of lost or damaged shipments, consider working with shipping carriers that offer reliable tracking services and insurance coverage for valuable jewelry items. Insuring your shipments can provide financial protection and peace of mind in case of any unforeseen incidents. Additionally, work closely with your fulfillment team or print-on-demand partner to ensure proper packaging and protective measures are in place to minimize the risk of damage during transit.
In conclusion
Print-on-demand jewelry is a highly profitable niche for you to sell on Shopify. However, it always comes with challenges.  
This article with basic knowledge about print-on-demand jewelry and some useful strategies and tips may help you overcome common challenges when running a print-on-demand jewelry Shopify business. 
If you haven't owned a print-on-demand jewelry business yet and want to start one by yourself from scratch, the next part: An ultimate guide to start a print-on-demand jewelry business on Shopify is for you. In this part, we will guide you step by step to start a print-on-demand jewelry store on Shopify and also review some helpful tools like Zest theme to streamline and fasten this process.