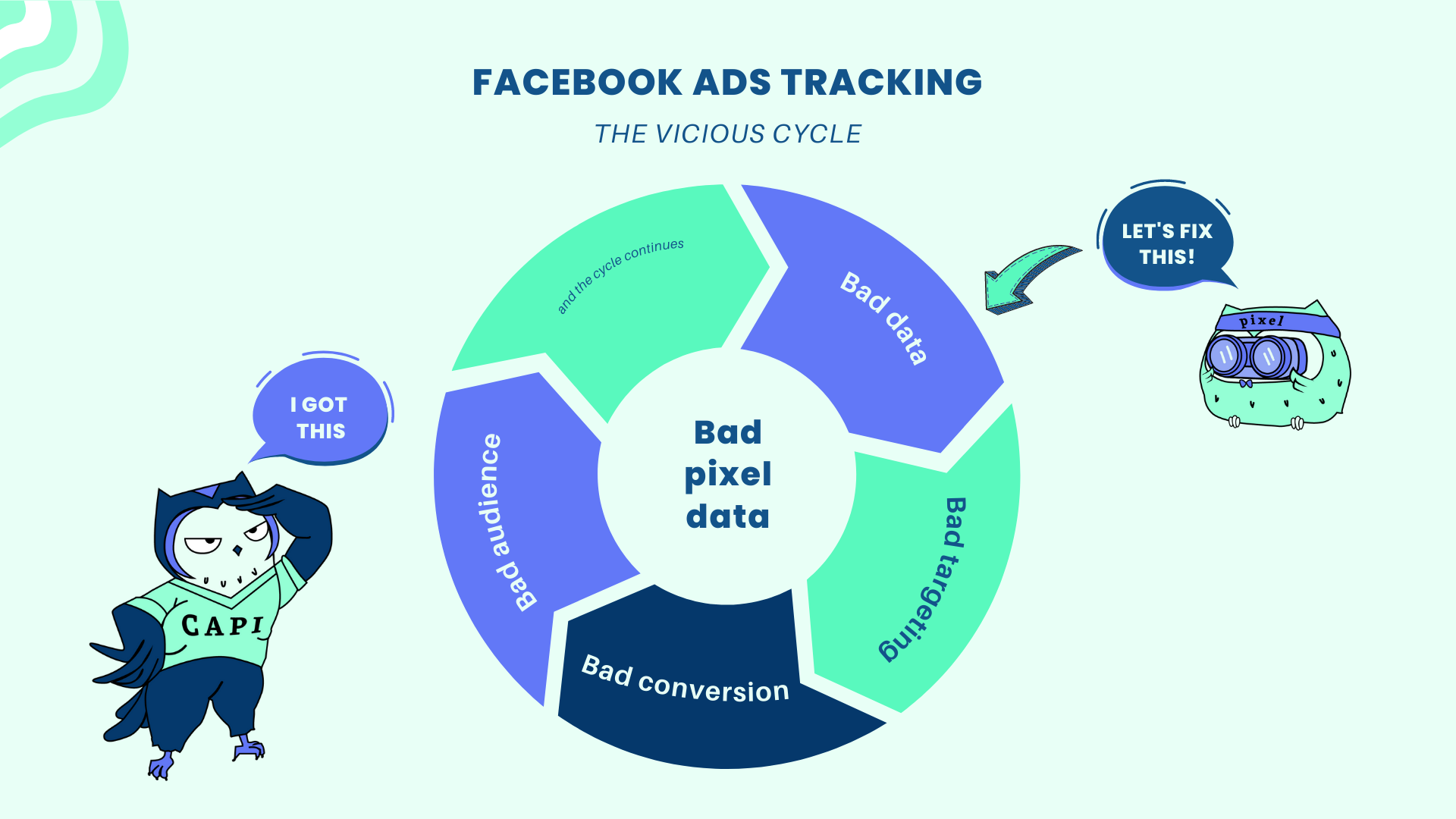 When you're just starting out, everything demands attention. Doing audience research, product research, making killer ad copies, and spying on others' ads, you name it.
When it comes to tracking, especially the nitty-gritty details of the tech, not everyone has the time to care. But folks can't neglect the quality of the data they share with Facebook either.
Read on to find out why, despite your jam-packed schedule, you should carve out some time to take care of the data you send to Facebook via the pixel.
Stop putting pixel installation at the bottom of the to-do list.
Whatever type of ad you're about to run, you want to target the most relevant people. And spend the least amount of time on the audience that doesn't matter.
To get there, you need good tracking planning. To understand good tracking, let's first understand bad tracking. 
In short, bad tracking planning and bad pixel installation mean bad business. You're leading yourself down a rabbit hole.
Bad installation leads to bad data, which leads to a bad audience, which leads to a bad conversion rate, which leads to a bad audience again!
To put this into perspective, imagine this:
You have been working hard to earn the first 1000 visits. The costs are quite painful, but you know it's just the learning phase. Out of 1000 visits, you convert 2 into sales. There are many people who have viewed your product and reached the checkout. All you want is to know who those people are so you can learn from them, or retarget them with a little nudge to the purchase.
If you somehow unluckily set yourself up for bad tracking, the 2 sales are literally not reported to Facebook, because they're not even tracked on an IOS opted-out device! Now Facebook has nothing to learn from your hard-earned purchases. 
People who have viewed your products seem way more impressed in Shopify analytics than what Facebook reported if bad tracking is at play. 
To sum it up, Pixel can send the events to Facebook fully, or it doesn't. Facebook can match the event with the user, or it doesn't. When either one fails, you fail to give Facebook an example to learn from.
What is the worst-case scenario? You find yourself almost wanting to quit because while you're limping toward the first $1000 in revenue, bad tracking messes up. Everything sucks. Let's not allow that to happen! 
Enough negativity (sorry). Now that you understand what bad tracking is, let's take a look at the other side of the story:
Good data -> Good Optimization and targeting -> More relevant audience -> Increased Conversion Rate -> Better custom audience -> Better lookalike audience -> Better optimization and targeting -> More profit!
I hope your head is now spinning, in a good way. 
Let's dive into how to equip yourself with a good ad tracking tool.
Forget about the myriad of pixel installation tools that have been giving you headaches. By the end of this article, you will be ready to pick the perfect tool for your business.
The ultimate checklist to find the best pixel tool
When you're out there fishing for tools, be sure to look for one that offers at least these:
Simplified pixel installation to save you time.

Turnkey server-side tracking option with Conversion API to solve IOS 14 tracking restrictions
Most importantly, it ensures the abundance and accuracy of customer data that the events carry to Facebook (read this to learn more about what data quality to look for in events).
An attribution dashboard to inform you of where your sales come from so you don't burn money flying blind with Facebook's delayed reporting.
A monitoring tool to help you understand your daily sends, so whenever some unexpected things happen that break your tracking, you are the first to know!
Now that you have had a benchmark in mind, let's examine the most common tools on Shopify
Features:
- Browser pixels: yes, multiple
- Conversion API: yes, multiple
- Data quality: good, including server event parameters, custom event parameters, and customer information parameters
- Attribution report: yes
- Monitoring tool: yes
Comments: Perfect for small businesses and those who start to grow
Pros:
This is the most well-rounded tool for small and growing businesses. It meets all of the bare minimums, outperforms in data quality and attribution, and maintains reasonable pricing. It even offers some extra features, like helping you sync your products to Facebook when it comes time to scale your business with Dynamic Ads.
And did you know that this team even offers a free custom event setup? Got some special requirements like watching the time on-site? Just contact them for support.
Cons:
What it doesn't offer yet is the ability to create ads and audiences right from the app dashboard, but you can still do this without a hassle in your Business Manager. Note that having this feature often means tripled pricing. 
 Features:
- Browser pixel: yes, but just one
- Conversion API: yes, just for one pixel. 
- Data quality: depends on whether it misses events due to incompatibility with your custom buttons
- Attribution report: no
- Monitoring tool: no
 Pros:
 - It's packed with all other ad features because it has a direct connection with Facebook as an official integration channel, so it's convenient to get your tracking in the same place
Cons:
- You can't connect one pixel to different store domains from the app, it will throw an error. Bad if you're selling internationally
- It's too broad so it can't be compatible if you are using some discounts or upsell apps. Hence, invisible loss of events.
Comments: Easy setup and good to get a first taste of how pixels will work at no price, but in the long run you want to ensure that the data quality is up to par with your peers.
Features:

- Browser pixels: Yes

- Conversion APIs: Yes

- Data quality: Good

- Attribution report: yes

- Monitoring tool: no

 Pros:

- Suitable for scaling businesses that need multiple pixels and every Conversion API is on.

Cons:
- A bit too complex to set up and tricky to navigate

- Quite expensive for small businesses that don't need multiple pixels.
And that's a wrap! Hope you have got a good grasp of what to look for in a tracking tool and be able to pick the most suitable for your business. Just keep in mind that free is good, but do mind the invisible cost.