Overview of the Messenger customer funnel
First of all, you need to understand what customer funnel on Messenger by a chart from Albert Rios, Facebook Messenger Partner Manager, speaking on Facebook Messenger marketing.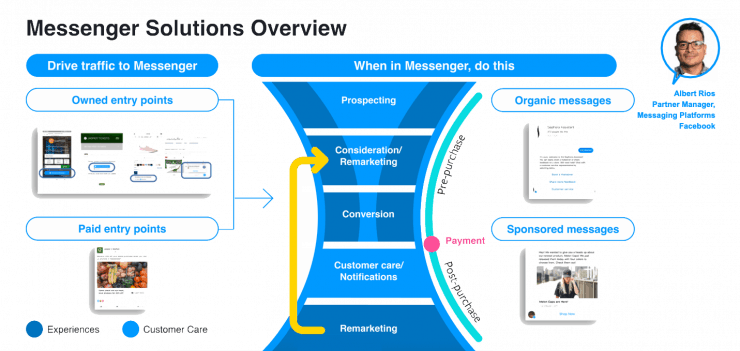 Let's take a closer look at each section of the funnel.
Prospecting – Establishing a conversational connection at the top of the funnel
Consideration/remarketing – Tapping into that engaged audience with conversation
Conversion – Yay! We have a sale!
Customer care/notifications – Nurturing your customers post-sale
Remarketing – Bringing things back to their attention for more and deeper engagement
You need to build your Messenger chatbot with automating responses on your inbox so you can drive more sales and conversion for your business.
With Messenger marketing, you're starting a one-on-one conversation with each of these prospects. People love conversations! It's the ultimate form of engagement. You can ask questions, get feedback, deliver resources, provide insight, segment them, qualify them, and draw them through a beautiful process of discovery.
Why do e-commerce stores need the Messenger customer funnel?
1. Reduce operation costs for starting period
Usually, trial stores will start with a limited budget and resources. So they only need primary demand for the chat system. Luckily, the Messenger plugin is free and it can add to your theme with a few lines of code. However, if you want a non-code installation experience, you can try our app Facebook Messenger - Live Chat. The app can customize Messenger widgets completely to fit your organization's branding and needs - adding a personal touch to your support service.
2. Non-disruptive experience with chatting
Merchants can grab the Messenger app and chat directly with customers who messaging to live chat. All queries will be immediately replied to and can convert to sales once customers are satisfied with the deal. 
3. Run remarketing ads on Messenger
Messenger ads are among the most robust forms of advertising available. It is a paid channel, but the options for targeting and customization are enormous.
4. All in one management platform with Meta Business Suite
Meta Business Suite is a free tool that centralizes Facebook, Instagram, and messaging tools in one place so you can save time, create connections with more people, and get better business results.
Supercharge your sales with remarketing activities on Messenger.
1. Reach more people
You can run Messenger ads with just a few USD per day to reach your new and old customers. Facebook Messenger ads are advertising options that either start instant-message conversations with individuals or appear within the Messenger app.
Whatever variety of Facebook Messenger ads you choose (and we'll get to your options in a sec), the goal is to start a one-on-one instant message conversation with a potential customer.
It's an ultra-personal way to connect directly, and privately: essentially treating customers like friends. This intimate interaction can lead to an above-average conversion rate.
2. Outstanding open rate and click-through-rate (CTR)
Using Messenger auto-response for lead generation can give a 90-95% open rate, and 20-25% CTR
Because people like "fast" experiences with live chat. It gives a direct entry point to customers. If your customer subscribes by email, they need to give their full name, timezone, gender, etc. Facebook profile can do all these fields for you.
In summary, the Messenger funnel will be a potential channel to boost your ecommerce sales with many new methods. You can diversify your lead generation source and convert them into loyal customers just by starting a live chat on Facebook.