1. Event Not 
Deduplicated
Hence, every event will be sent twice or duplicated before matching, once using the browser side-event, and once using Conversion API (or server-side event). It processes two same events but your pixel will only receive one. That process is called deduplication.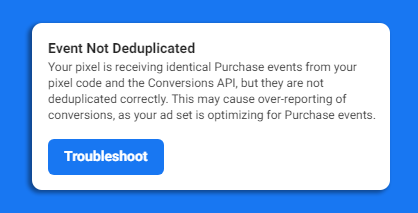 In order to keep your events reporting accurate, Facebook is deduplicating server events when a browser event is sent. Deduplication means that when both browser and server events are received, the browser event is processed, and the server event is dropped.
This can cause by missing key parameters so events from the server side will not be processed smoothly. We recommend checking the server side with technical support.

Better deduplication for your events with Two Owls by Omega!

2. Missing user parameters
For Page View, ViewContent, AddtoCart, and InitCheckout events, the pixel is tracking all visitors
If the customers do not have information (email, phone...) pixel cannot send customer information to Facebook, so there is a warning, it is no problem. If the customer logs in, the app still sends all the information to Facebook.
This is normal. Only clients who are tracked by CAPI have this warning, so no problem. All Pixel apps including Shopify are doing the same




So you can safely ignore those warning notifications.
3. Server Sending Invalid Match Key Parameters for Event
Your server is sending an invalid fbp, ip_address, and user_agent parameters value for your event. This may be because there was an error in the parameter value you set up. This may cause issues with the attribution and delivery optimization of ad campaigns that are using those events.

The root cause is your server sending missing or invalid data. It's probably caused by bots triggering the pixel, where the script can't correctly identify fbp, ip_address, and user_agent values.
Moreover, before customers add their information, it is hard to detect and get their data, so some fields will be missing.
It's marginal with beginning events such as page view, view content, and add to cart, and you can ignore them.
But be careful if it has a warning at the purchase event because that will affect your ads report later.
 4. 
Same Event ID Received for Many Event Instances
When deduplicating events, Facebook uses two important signals: the event name and the Event ID. When a pair of server and browser events have identical names and IDs, the browser-side event is kept.  Every event ID is unique that is used to identify deduplicated events received from your pixel and the Conversions API so they're not counted twice. To ensure Facebook is accurately counting your events, each unique event instance needs its own unique event ID.

However, if you're experiencing the same event ID for many instances of your events, it means your event ID is duplicated with other buyers.
This error may cause issues with the measurement of your events and the attribution of your ad campaigns. When the buyers click your ads link and make two purchases simultaneously, Facebook will automatically create identical ID events. Or even two buyers click the add to cart a product or checkout at the same moment.
This can be indeed related to the cache issue of buyers' browsers. Test your events and make sure each browser/server event has a unique Event ID. Then you must restrict the pixel to your verified domain only, not from other traffic sources. Once you do these, you can ignore the warning.
Another solution is our Facebook Multi Pixel, we can configure the unique ID for each event thanks to generating algorithms. So no more same-event IDs can be created for the same action.
5. New Domains Sending Data
Your pixel recently started sending events from these domains.
It might not be an error, just a warning about the source of your events.


As you can see, some domains are used by Shopify to preview your product, and that also triggers the view content or pageview event.
The solution is to create an Allow List with domains that can use the pixel.
Go to Events Manager, and choose your pixel which has the warning.

Choose Settings tab

Find the Traffic Permissions


Click Edit button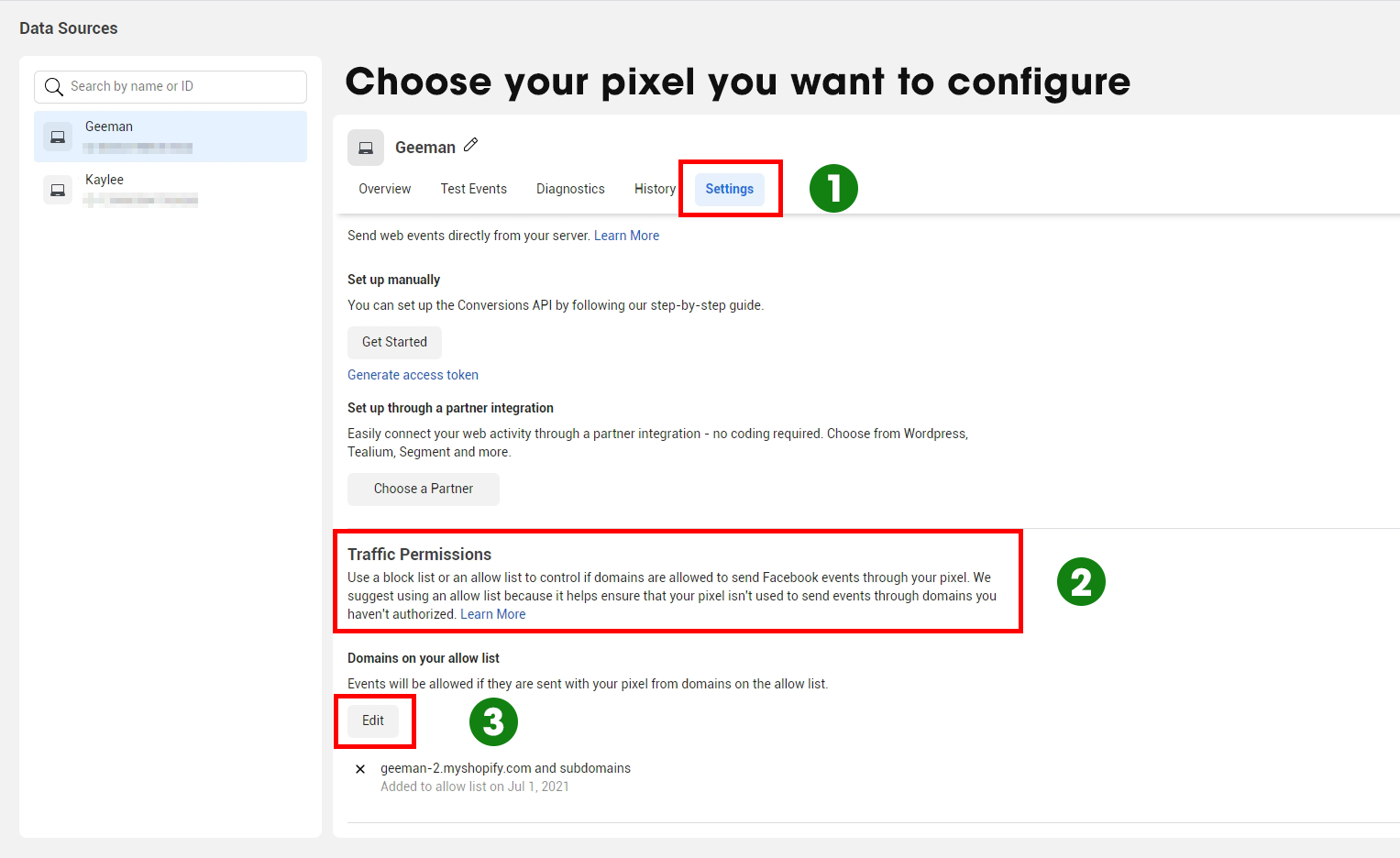 Enter your domain into the pop-up window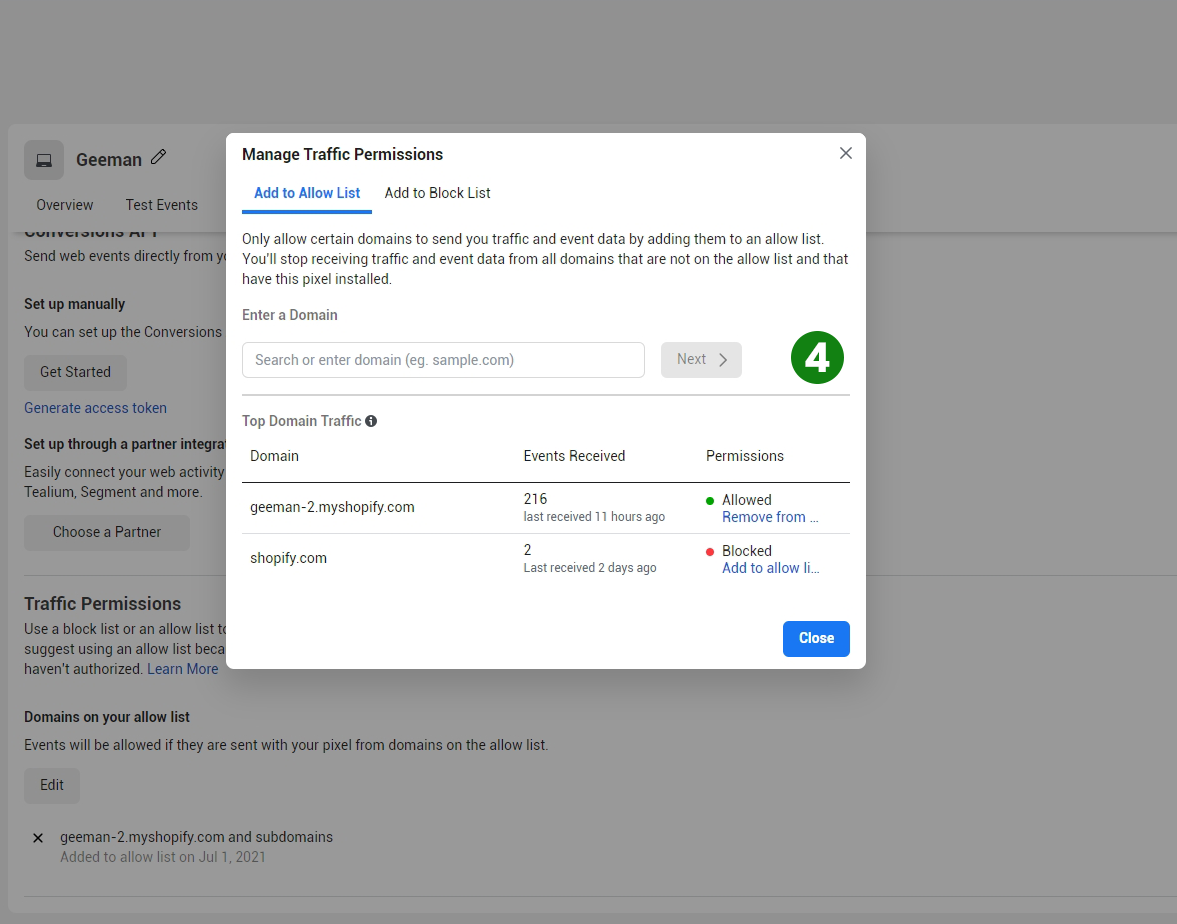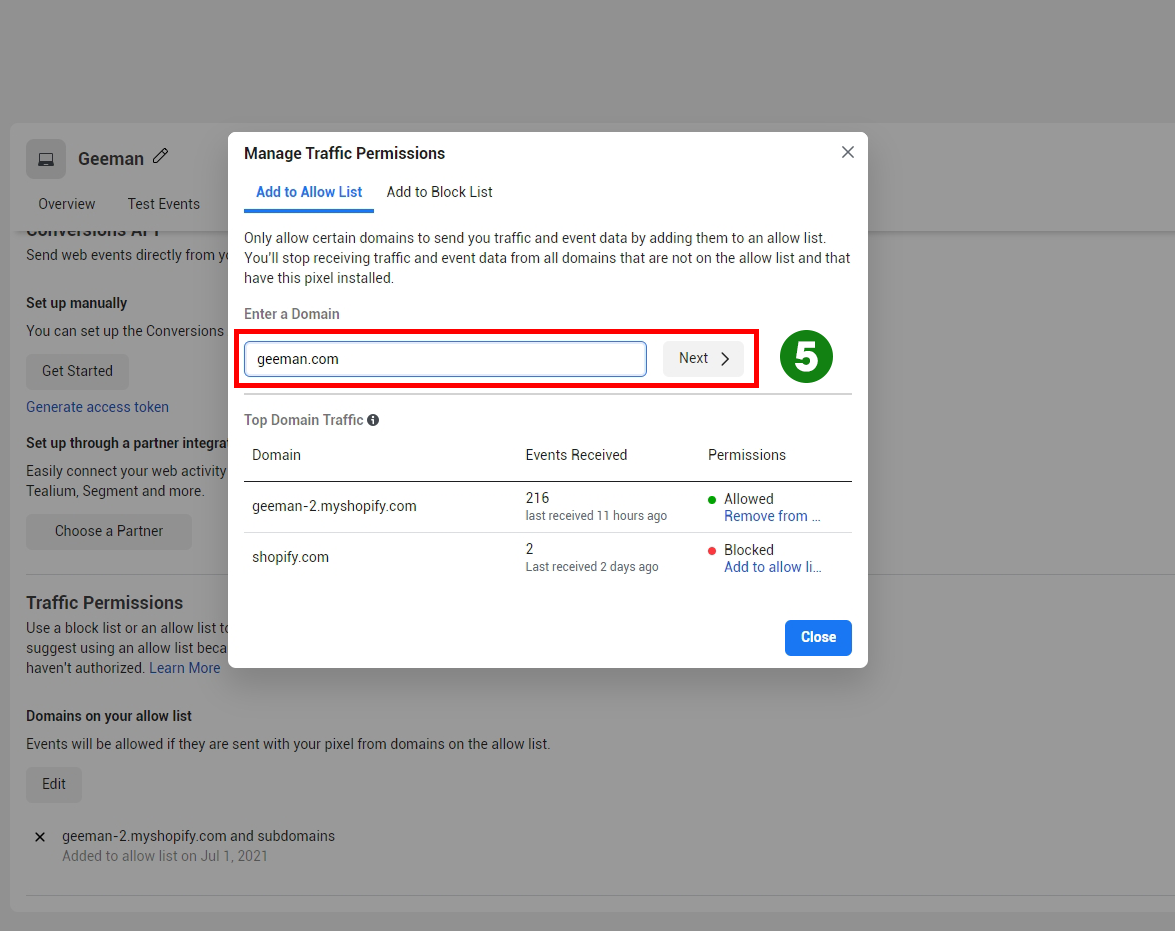 Finally, confirm your domain have added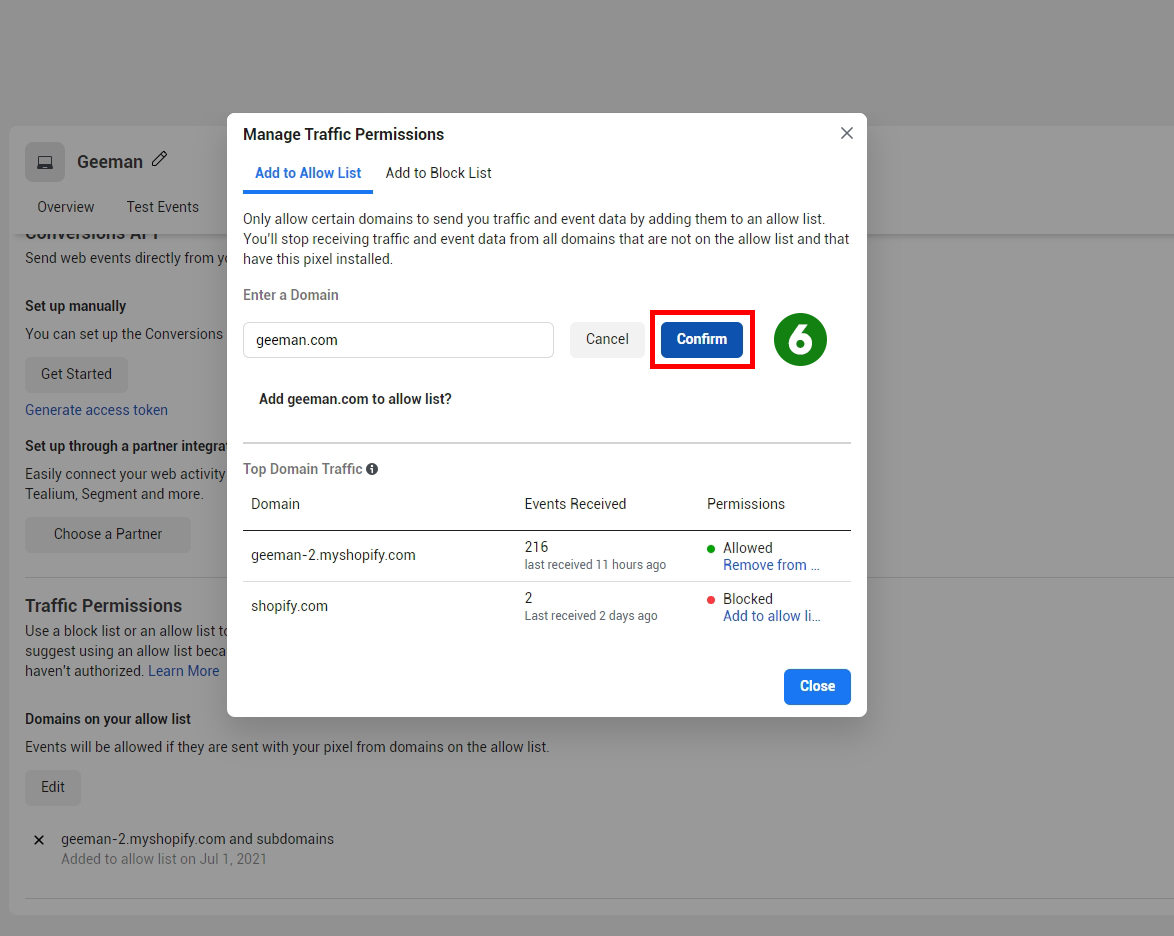 As you can see, you have set up successfully the domain into allow list.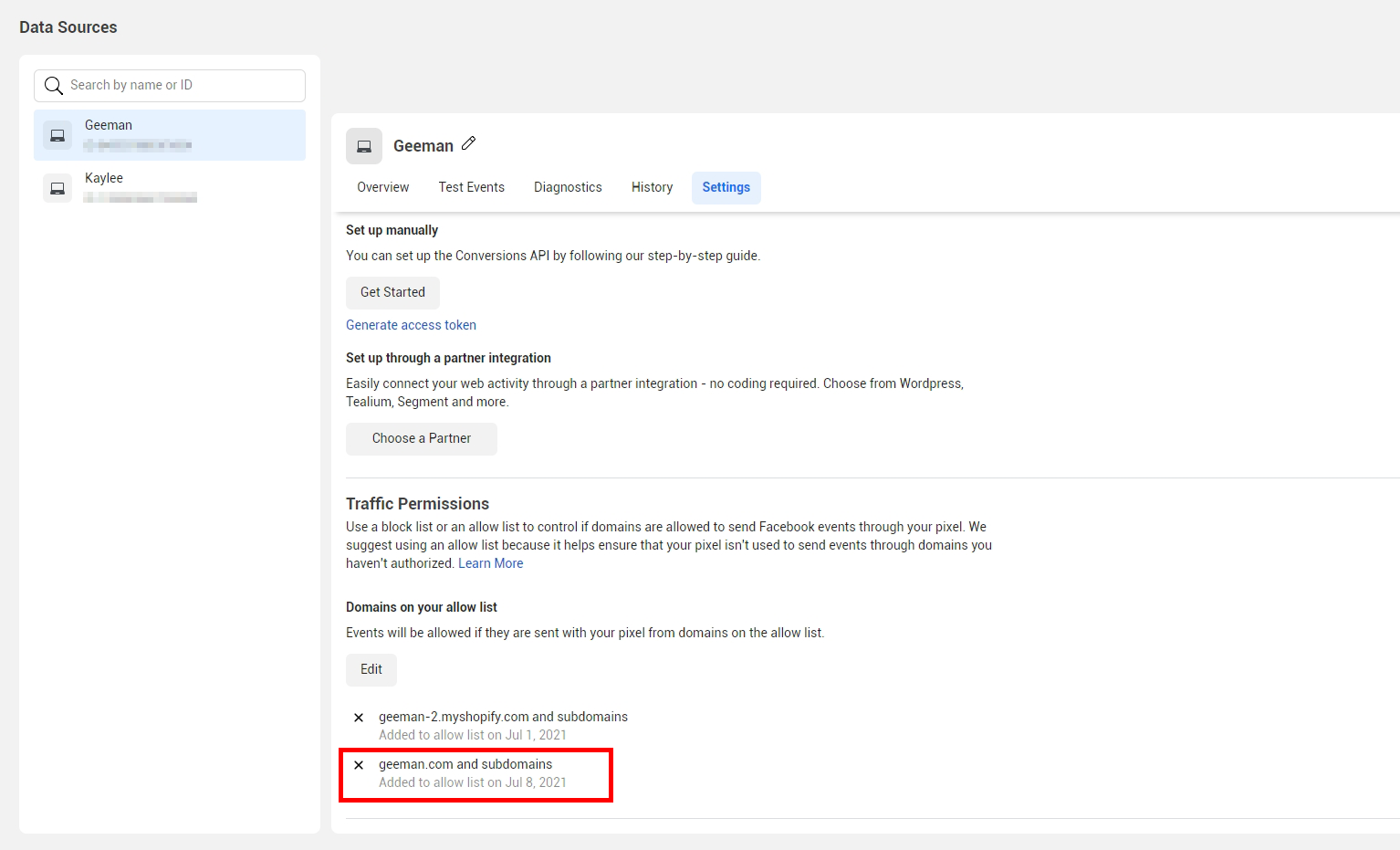 Conclusion: In a short time, advertisers who use CAPI can experience a lot of errors and warnings at the diagnosis from Pixel. So you don't need to panic. Just sort out the error type and try to contact technical support. 
Special offers


🎉 Our beloved partner, UpPromote, is bringing you an extraordinary BFCM 2023 Campaign where you can get all TOP Shopify's Services at throwaway prices you haven't known before 😉
💥Explore huge offers of UP TO 50% OFF on your 20+ favorite Shopify apps, including us - Two Owls, UpPromote, Omnisend Email Marketing & SMS, Pagefly, DSers‑AliExpress Dropshipping, CJDropshipping and so many more. At UpPromote's BFCM Campaign, you can find a range of the most significant sales and best deals in one place, so you can browse your favorites and see what's on offer!