Picking the right theme for your online store stands crucial at the early stage of running your business on Shopify. This e-commerce platform has been providing a variety of themes both free and paid, which you can choose from and make the most of features to best represent your store.
Shopify gives some key advice that is helpful for your choosing theme consideration. If you're not too familiar with customizations or your selling products are simple, free themes might be a good choice you can start with, as they have all fundamental e-commerce features available to serve your most demands. Otherwise, premium themes (paid ones) are appropriate if you want to leverage your store's display, functionalities, and customer experience to a much higher level.
Don't miss out on our recommendation for top easy-to-use Shopify themes in the following section of this article.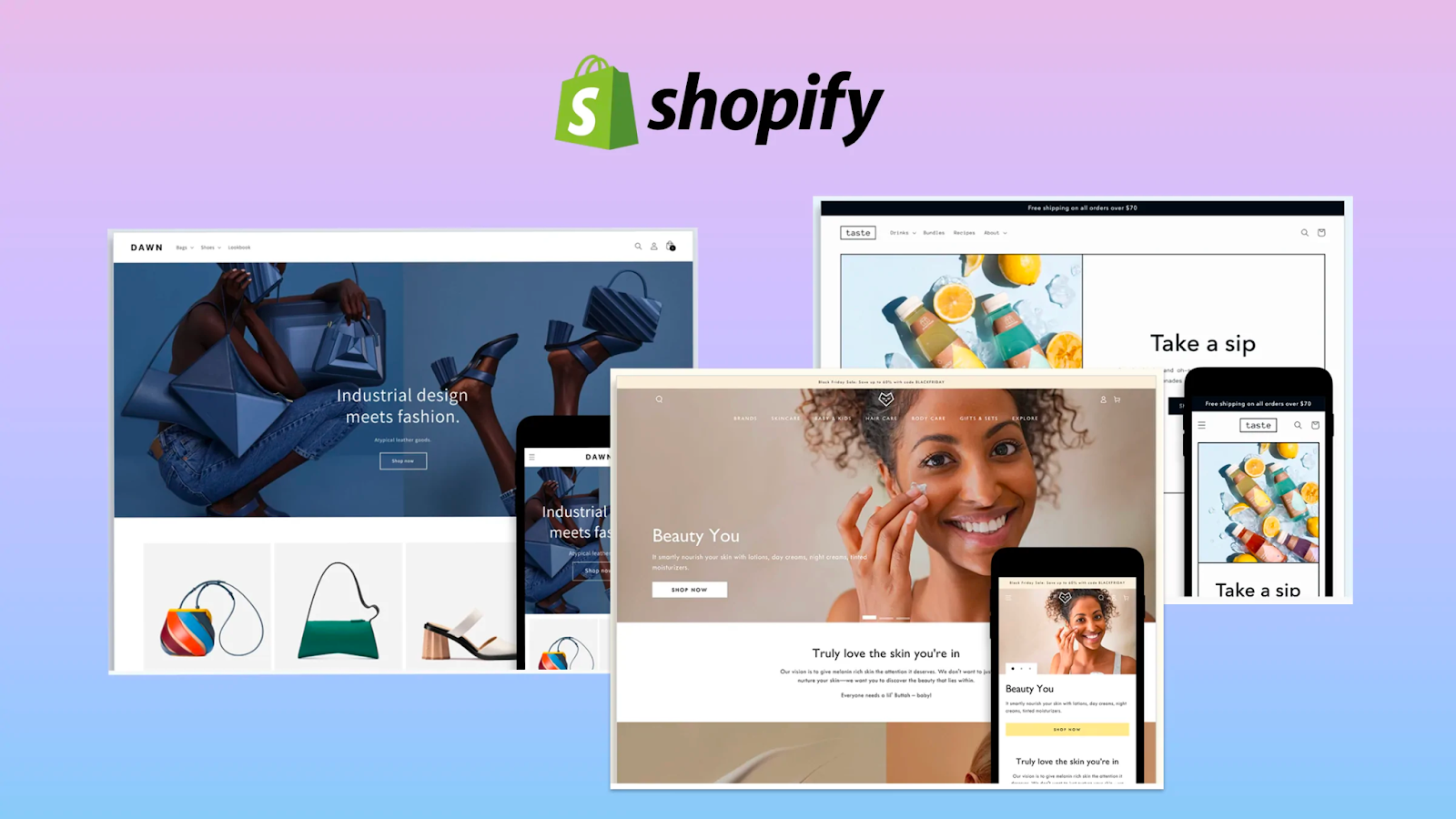 On this page
Discover 5 simple-but-awesome Shopify themes below

Dawn

Taste

Be Yours

Impulse

Prestige

Summary
5 simple-but-awesome Shopify themes:
To be known as Shopify's first free OS 2.0 theme, Dawn has been the solid principal model followed by many other themes. Store owners, especially beginners, love Dawn because its outstanding features were developed based on a set of best practices that enable them to build their good-looking and functional website.
The set of practices mentioned here is optimized performance, a friendly interface for both merchants and customers, accessibility, and flexible design using sections and blocks.
The well-built layout with large media options helps feature the store's products in a great visual storytelling way. Quick steps to set up, many professional functions available for free, and adaptability to different industries such as clothing, health & beauty or books, etc. - those benefits are enough to make Dawn a perfect choice for any new Shopify stores or the ones not requiring many customizations for their website. Dawn is also the default store theme when you first sign up with Shopify.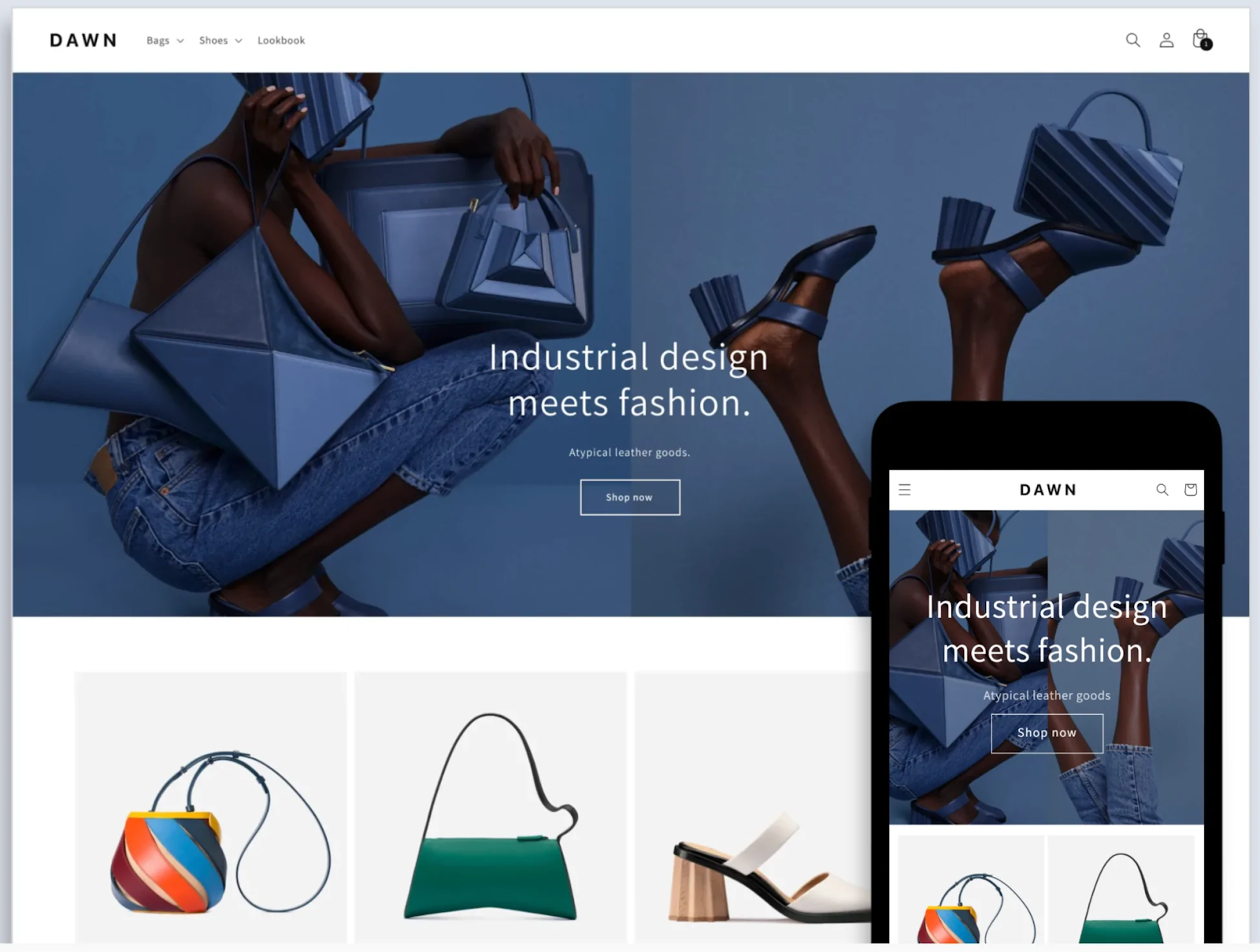 Dawn details:
By: Shopify

Store type: Fashion, health & beauty, accessories, books & toys

Cost to use: Free
Another free popular theme on Shopify is Taste, which also has the smart simplicity approach like Dawn but is a bit more bolder and vibrant. It allows stores to emphasize their products with bold headlines, industrial fonts and a strong contrast color palette.
---
Taste theme applies the spacious design to catch the visitor's eyes on the featured content. You can make the most of these spaces to highlight the products solely with breathtaking visual design or provide a few detailed descriptions besides the products. Taste theme is highly recommended for on-a-budget stores which still seek to create an energetic feeling and focused attention stimulus for products in store.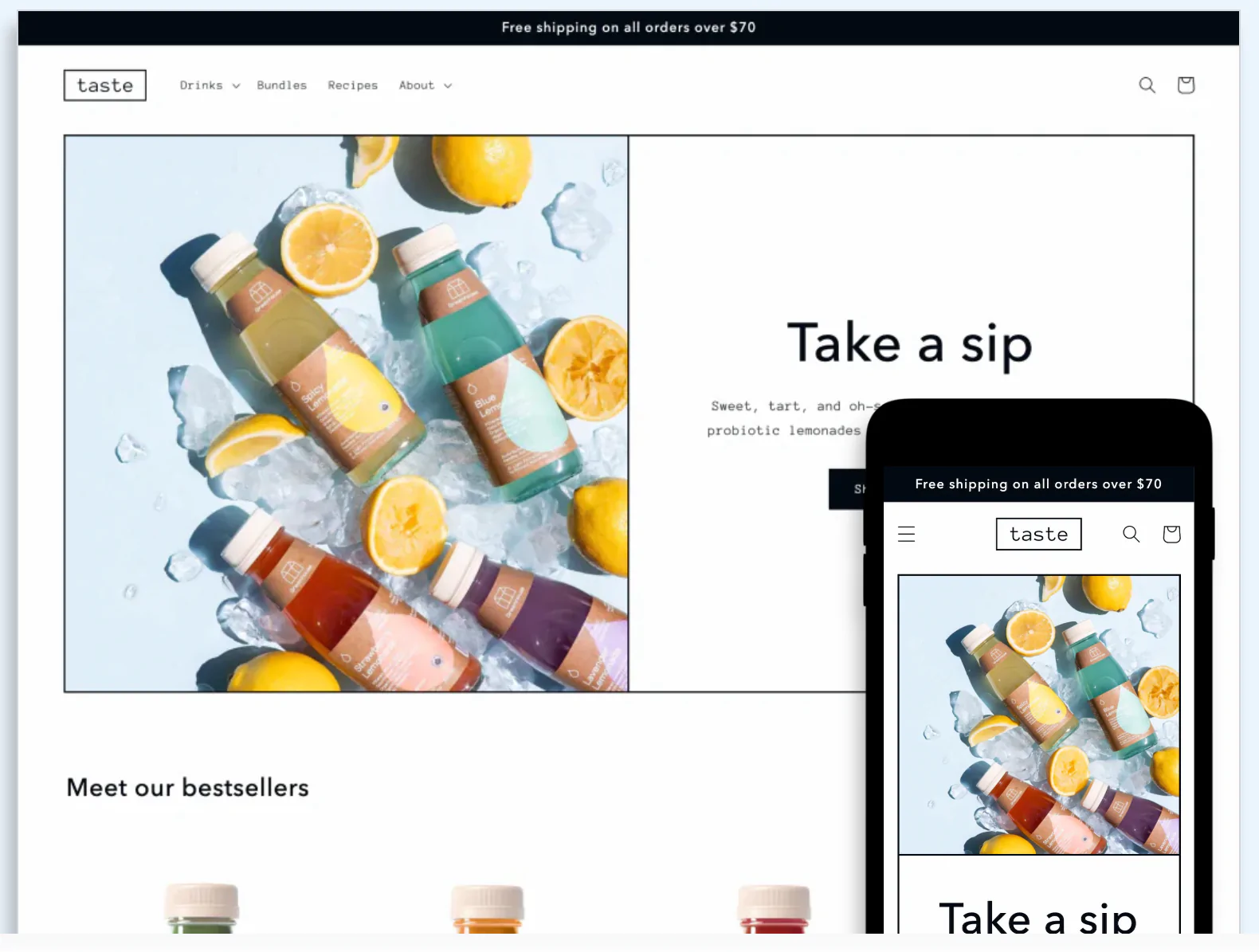 Taste details:
By: Shopify

Store type: Food & beverage, restaurant

Cost to use: Free
---
If you are a fan of the Dawn theme, you absolutely love Be Yours as it is developed based on Dawn and inherits all outstanding features of this free theme like mobile-friendly interface, fast-loading speed, fully OS 2.0 supported and easy-to-use design technique using sections & blocks. Not only that, Be Yours lets you reach a higher customization level with more built-in features such as image comparison between before & after, free shipping messages, product variants for customers' pick and many other things to boost your store's performance.
Some fun facts about Be Yours and its creator - RoarTheme, in which you may be interested as it has many "firsts" since its release on Valentine's day in 2022 are:
The first new Shopify Theme Store Partner in 3 years

The first Shopify Theme Store Partner based in Asia (it is in Vietnam)

The first successful theme submission built from the Dawn framework.
You can view demo stores applying this theme with four available example presets in the beauty, fashion, plant and headphones industry as well as choose to try the theme in unlimited time before making the purchase decision.
A super great after-sale service is also a huge plus for using Be Yours theme. If you have any queries about features or face difficulties during the theme editing process, you can easily reach out to the support team and they will ease your concerns with instant solutions.
So, Be Yours is highly recommended by many theme experts and store owners through its received reviews. It is really well-suited for customers looking for a versatile theme with a collection of rich features and substantially customizable ability.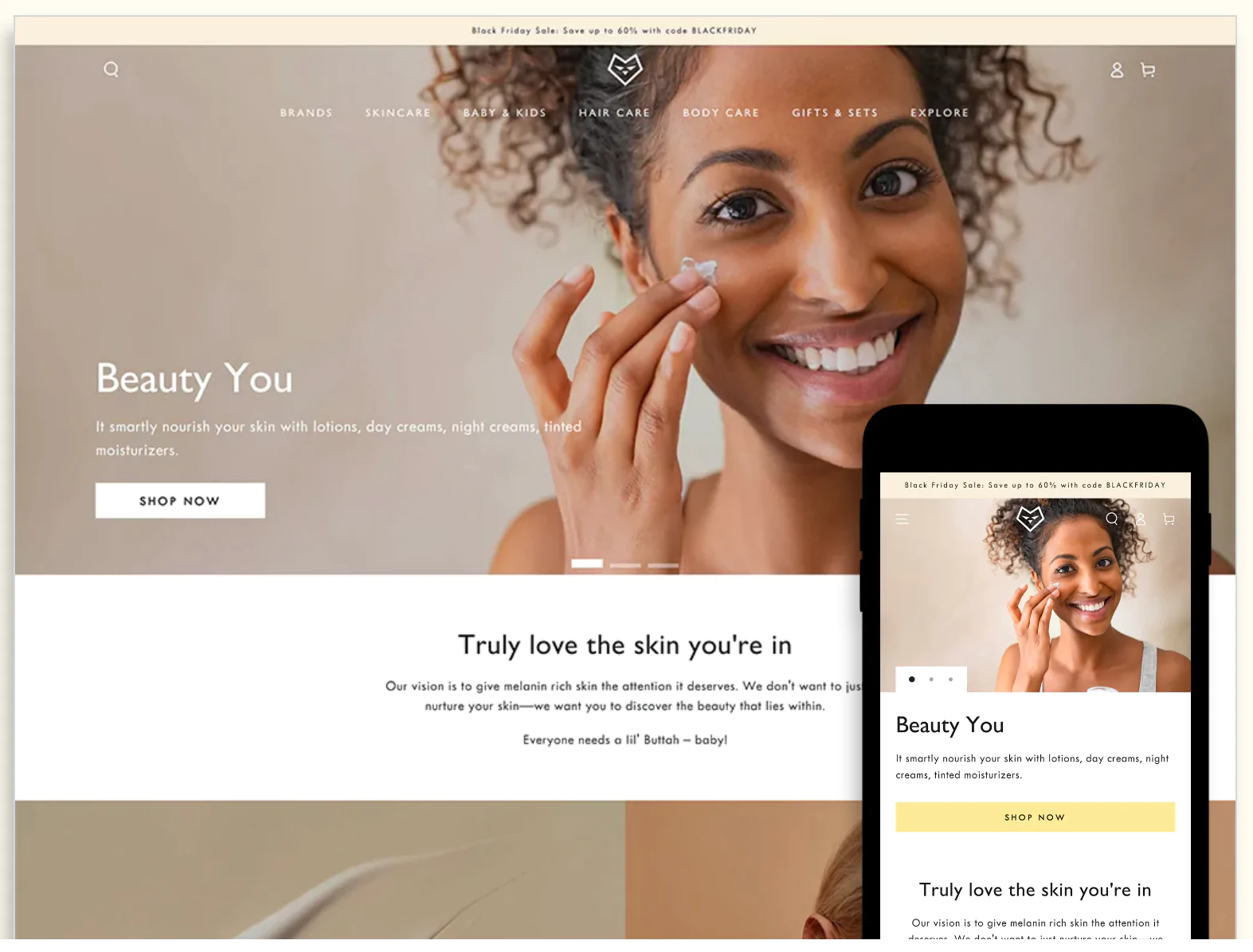 Be Yours details:
By: RoarTheme

Store type: Fashion, health & beauty, accessories, food & drinks, arts & crafts, electronic equipment

Cost to use: $250 USD (one-time payment for lifetime service)
---
The next premium theme that comes in this top list is Impulse. This theme is certainly worth considering when you want to have a clean and modern designed website. It is visually proved through its demo stores in three preset options: clean, modern, and bold. For example, no matter how many items you have for the menu and set them under the mega display, everything will be well-organized with a clean layout which creates comfort for customers during navigation.
Interestingly, Impulse's creator team did a research across Fortune 500 retailers to develop the theme's great features that help to sell. That's the reason why you can find cutting-edge displays in promotion banners in this theme, a large full-width and high-resolution image banner with text section and parallax effects will surely impress many customers.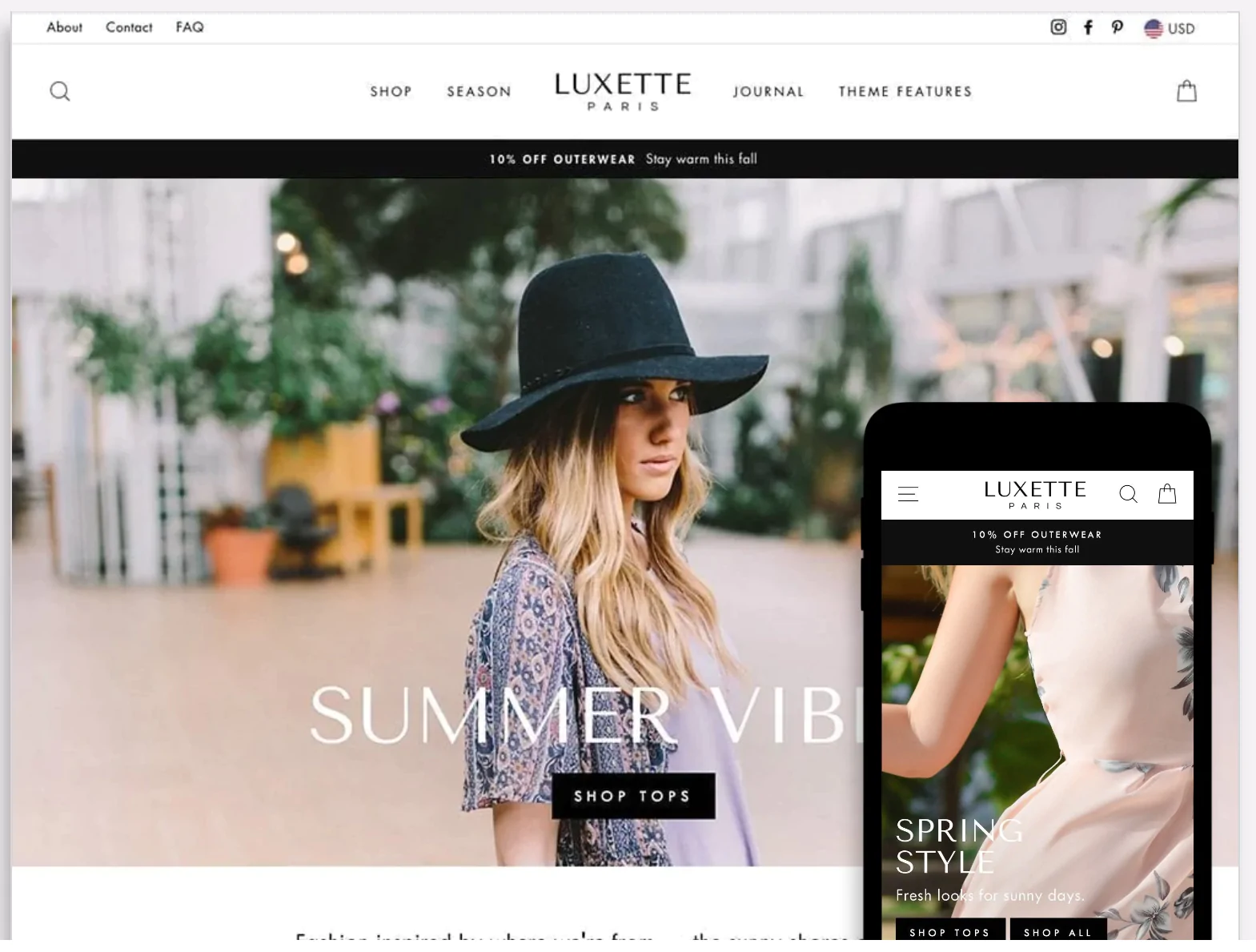 Impulse details:
By: Archetype Themes

Store type: Fashion, health & beauty, accessories, food & drinks, arts & crafts, electronic equipment

Cost to use: $320 USD
---
The last Shopify theme to recommend in this article is Prestige, a theme specifically designed for premium, high-end product brands. If your store is in fashion and beauty and aims to build a high-class brand for the niche market, this theme is definitely well-fitted.
There are three styles that you can build with Prestige: Allure, couture, and vogue. Each style serves a specific look and feel; for instance, allure is based on traditional e-commerce but contains a fresher approach with stylish & sophisticated design like luxurious brands always do. For couture, the style is more about soft and feminine-oriented, while vogue is about dynamic, lively and sleek design.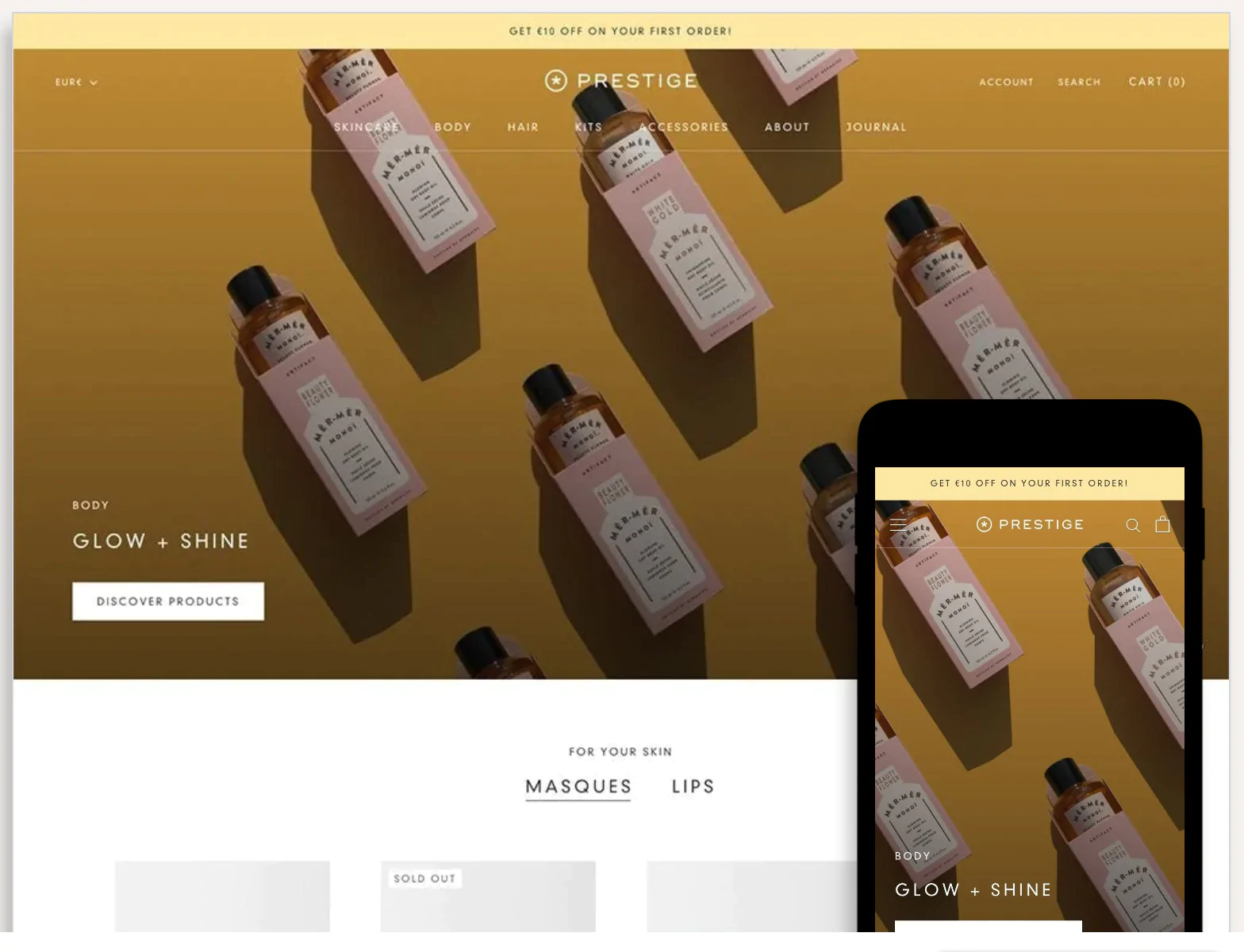 Prestige details:
By: Maestrooo

Store type: Luxurious fashion, health & beauty, accessories

Cost to use: $320 USD
---
To sum up,
There is no perfect theme, it depends on how it fits your demand and expectation to build an online store. Dawn, Taste, Be Yours, Impulse and Prestige are the recommendations based on our research in this article, which you can refer to widen your choice list. Shopify provides transparent information about each theme in its library with a demo view and feature details, so what you need to do is identify your industry, your products, customization demand and other critical requirements. Next, filter to find the best-matched theme on Shopify and look at themes' reviews to make a smart decision for the final step.