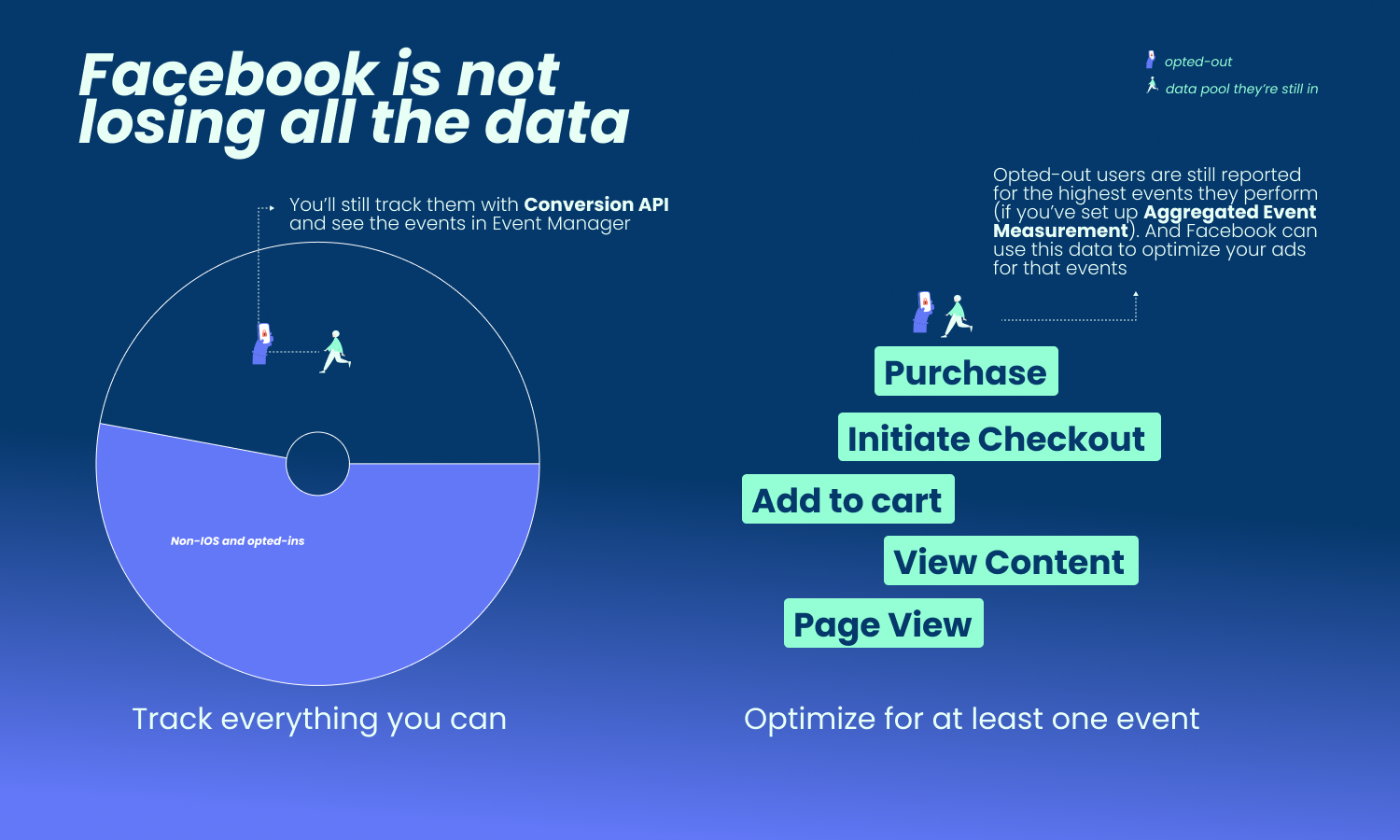 If the IOS 14 has been spinning your head around almost to the point of quitting, there is something that you'd hate yourself later because you didn't pay enough attention to it. It's Aggregated Event Measurement. Do it right, you'll stay on top of the tracking game despite the IOS axe in your back. And not to worry, this article will keep the jargon to the minimum. Let's go!
AEM protocol was born out of necessity 
Remember the Apple ATT prompt that flipped Facebook advertisers' world upside down, some 2 years ago? 
Yes the pain still aches. 
If there's one thing you should recall about it, it's that Apple, in the name of user privacy, gave users the chance to explicitly tell Facebook not to track them. Or as you often hear, the opted-outs.
Leaving aside the moral of who's right and wrong, Facebook land indeed experienced an earthquake. 
First opt-out, then landslides

Take a look at what entails an opt-out:
Tracking a half: Pixel is only seeing half of the battle because it undeniably can't track opted-out users' action. (That's also why folks are moving to Conversion API as the guiding star).
Reporting - walking away: If Pixel sees only a half, it'll only report half (at best, in Ads Manager). If you're backing it up with a Conversion API, under great condition, you'll see more than a half (and that's totally worth it, but more on this a moment later)
Attribution - the eternal wait: Annoyed by the reporting delay? That's because Facebook needs time to process the events it receives from opted-out devices. If they opt-out, only the highest priority events will be reported in Ads Manager. When you have to decide which events to report, besides figuring out who opted out, you obviously need more time!
Targeting - I'm out!: Heard of shrinking audience? You heard that right. Even if you can track what opted-outs did, you can't include or exclude them in or from an audience. That means you can't directly retarget them no matter what. 
Optimization - never complete: Optimization tells Facebook to find audiences who are most likely to take the action you want them to take. The seed data for Facebook to learn from, sadly, will also shrink.
Ouch.
Facebook is not completely blind, with a bit of help
You might be scratching your head wondering: "Isn't the Conversion API the ultimate fix for the IOS sweep?"
As much as I would like to answer yes to boost the Conversion API solution for Shopify that we're selling, I still have to say no.
On the flip side, has Facebook completely defeated in the privacy battle?
Also nope.
While you can't resurrect the good old days of tracking (real time, complete), you can still give Facebook the best data possible with the help of Conversion API and Aggregated Events Measurement.
Understand IOS shrinking audience
When I say shrinking audience, I always think IOS opted-outs. They're both the source of the shrink, and the victim (if you agree this opted-out button steal the users chance to have ad relevancy at their fingertips :)). 
This is to emphasize that the Android audience or opted-in audience will not be affected. 
Cut to the chase, here is what data pool the opted-out users leave: 
Opted-out users leave Custom Audiences (Hence Lookalikes). 

They will also leave the Ads Manager reporting (somewhat,

depending on whether you've set up AEM

or not)

Finally, they'll leave part of the seed data for optimized events.
This picture will better explain the process: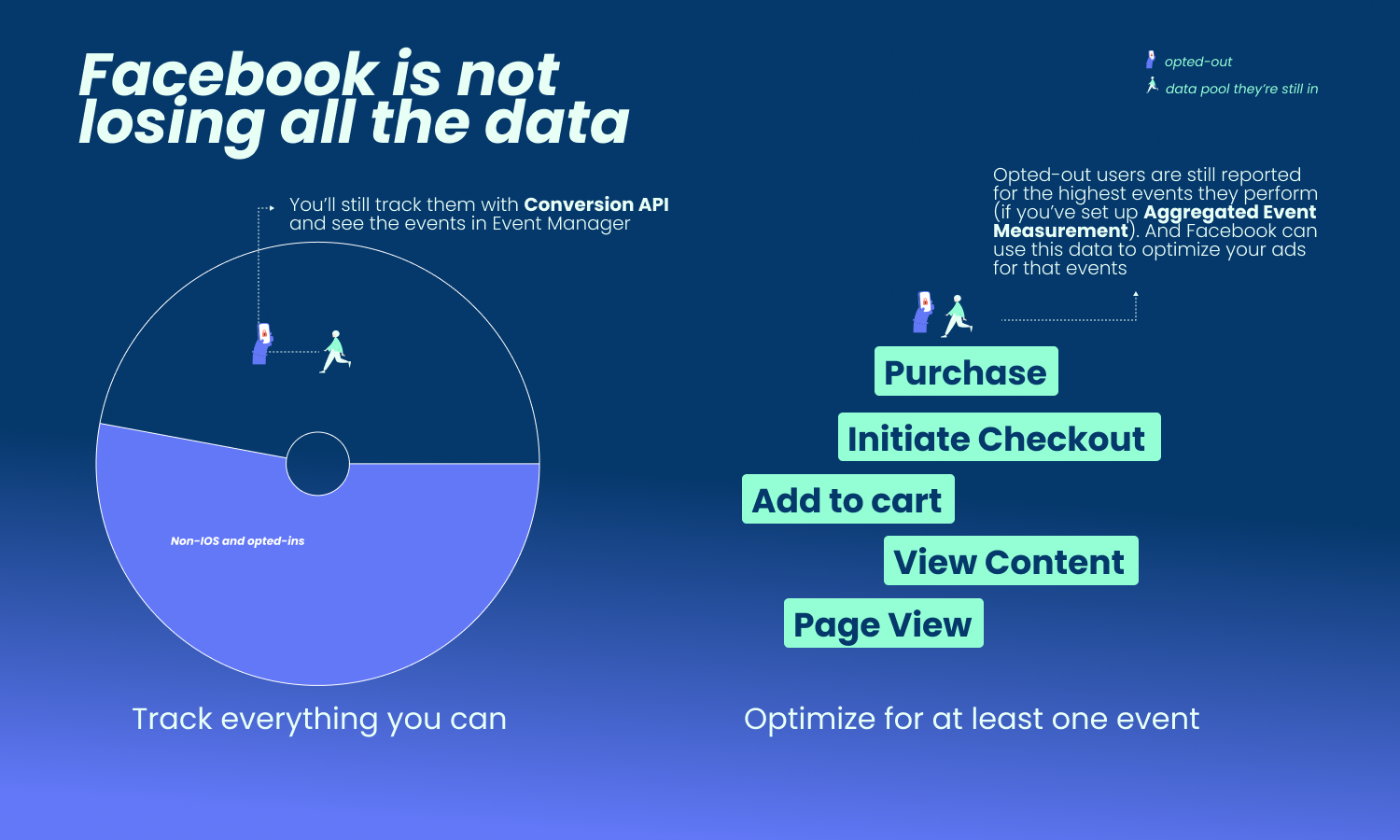 How to set up Aggregated Events Measurement
If you've already triggered some events, Facebook will automatically do it for you, unless you want to change the priority of each (double checking this is highly recommended)

Note that you have to be a business admin to have the authority to do this, beside having your domain verified.
Check this out for a detailed instruction.
Looking for alternative audience
While your web conversion is crippling and you've done everything to fix it, there is still opportunity to seek a warm audience elsewhere.

Think your email list, your leads who fill out forms from Facebook lead ads, or ones who interacted with your page. 
And that's pretty much it. The post-IOS tracking picture might seem like a glass half empty, but with these 2 weapons, you'll start seeing that it's actually a glass that's somewhat full.
Check out this tool to help you buckle up if you haven't.