Unclaimed Website
If your website URL is not claimed and verified by Google yet, this error will occur. To fix it, you simply add a meta tag to your site's homepage to verify your website URL.
Follow the instructions below:
First, go to

Tools & Settings

. Then, choose

Business Information

>

Website

> Enter your website URL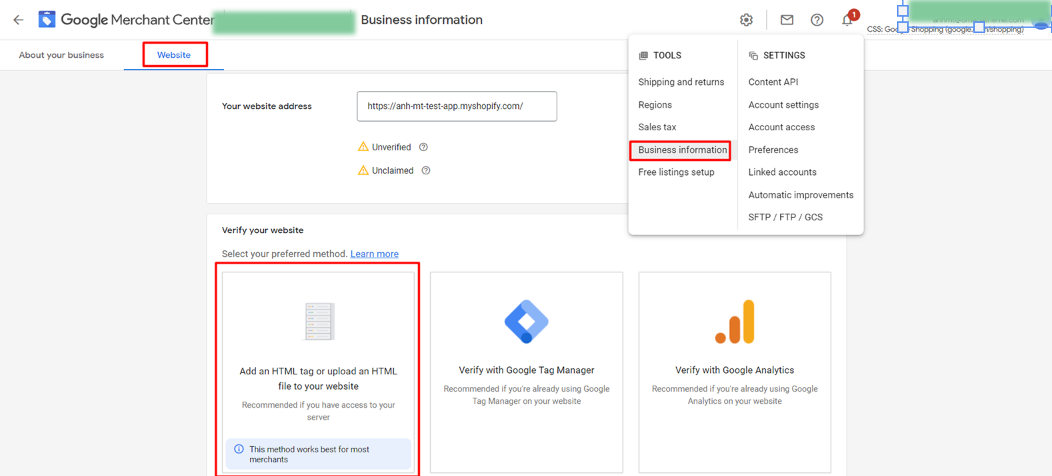 Add your website URL
Next, click

I have access to my server

and choose to

Add an HTML tag to my homepage

. Click on

Copy to clipboard

icon next to the tag to copy it.

Click on Copy to clipboard
After getting the tag, you need to log into your store. Go to

Online Store

>

Themes

. Then, on the top right corner

click Actions

>

Edit Code

.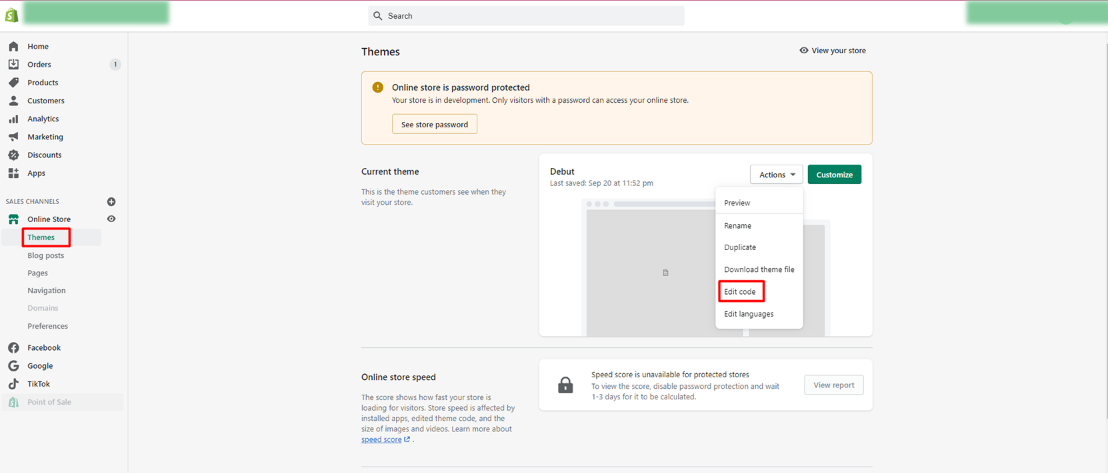 Go to your online store, click actions and then select edit code
Find the file

theme.liquid

inside the layout folder. Paste the meta tag right underneath your opening <head> tag, then

Save

.

Find the file theme.liquid, paste the meta tag right under openingtag, then Save
Finally, go back to Google Merchant Center, scroll down and press

Claim Website

to submit your URL to Google for verification. If you paste the code properly on your site's homepage, your website will be claimed and verified quickly.

Now go back to Google Merchant Center and press Claim URL to submit your URL

If you follow all the steps correctly, your website URL will be verified quickly and look like this
The account isn't eligible for enhanced listings on surfaces across Google
To be eligible for enhanced listings, which show your products in content-rich listings on the Shopping tab, you must follow the policies for free listings as well as those for Shopping ads. Therefore, your products need to have the attributes required for this kind of listing.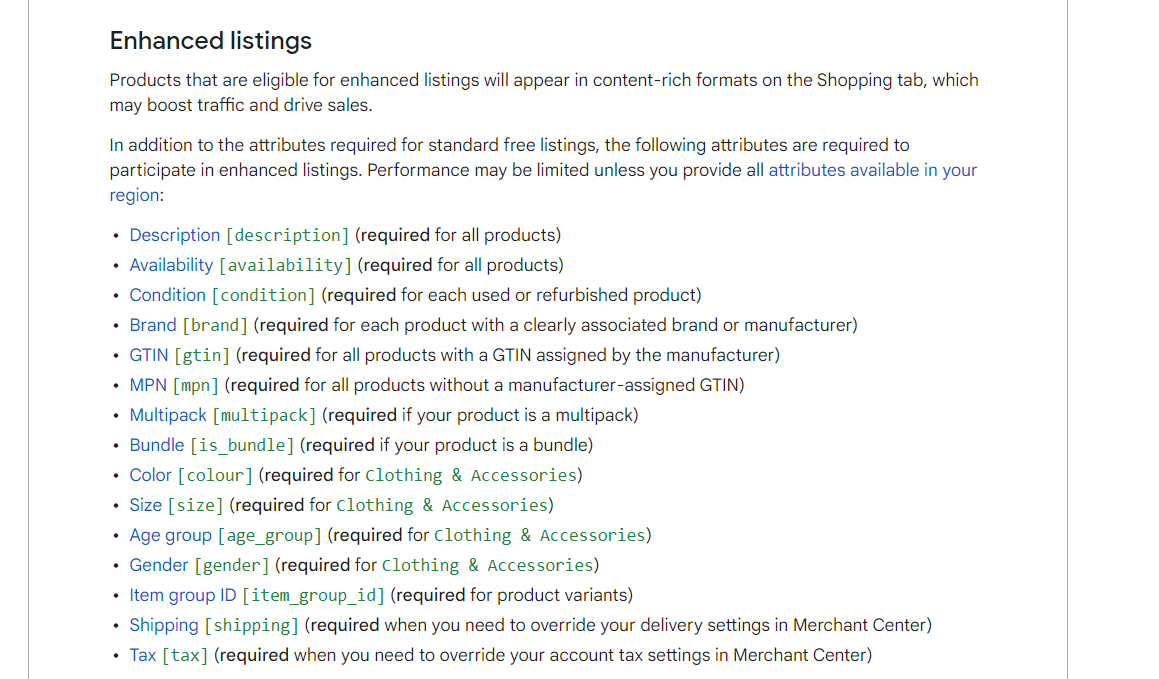 To be on the enhanced listing, your products need to have the necessary attributes
To fix this, you should check which attribute your products lack and add them. The common attributes that should be added are GTIN, MPN, shipping, and tax. For GTIN and MPN, you should check the correct format of these fields, then add these fields to your store. For tax, you can easily set it up in Google Merchant Center.
Missing Value (Shipping)
Choose

Shipping & Returns

tab under the

Tools

section

Select Shipping and Return tab
Click the + button to add a shipping service. You should name the services and choose a service area. It should basically be the target country that you selected when you submitted the feed.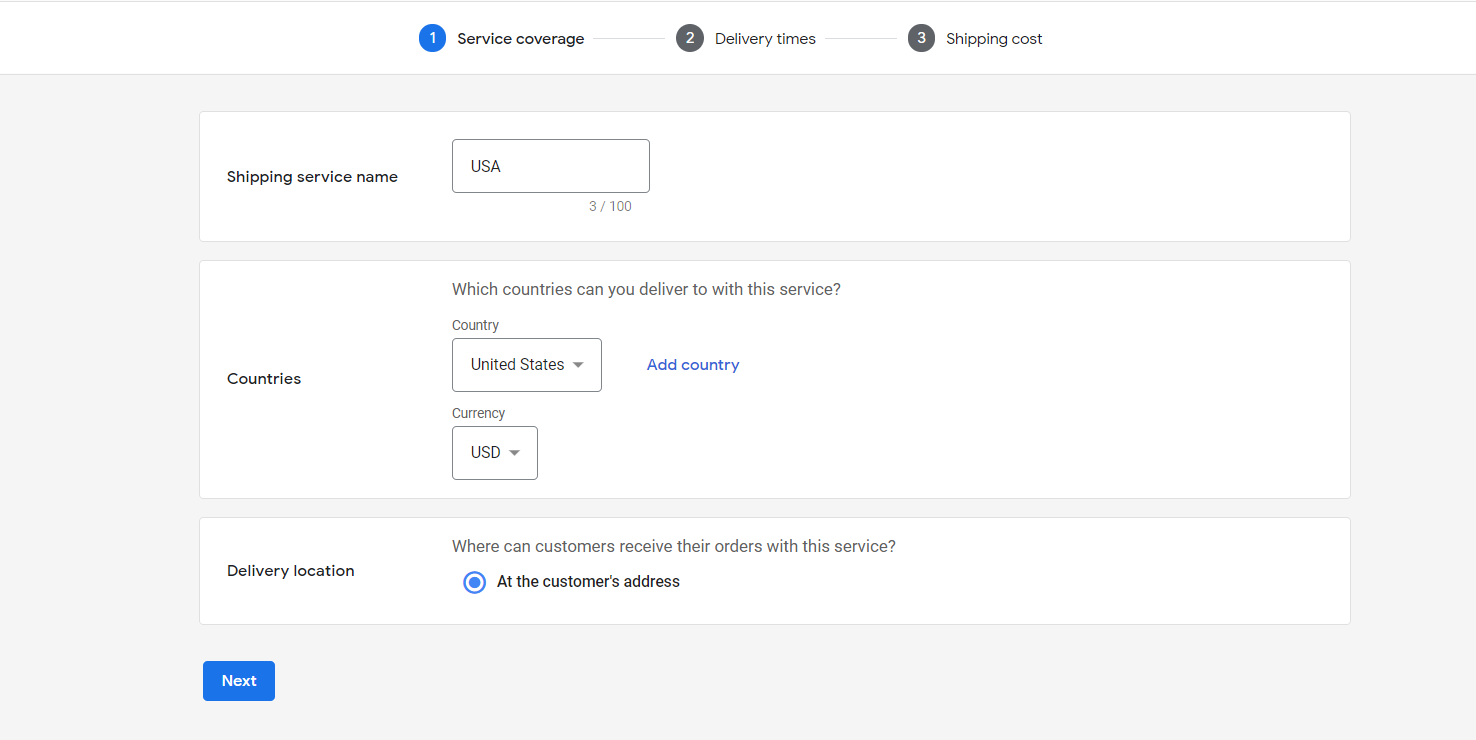 Now in the shipping service, you should name the services and choose a service area.
Remember to set your delivery time
Next, you should add your shipping rates. It is difficult to correctly estimate shipping prices for each of the products, so Google offers multiple ways of setting up your shipping cost: fixed-rate, a percentage of the order total, or carrier-calculated rate. Please refer to

this article

for more details.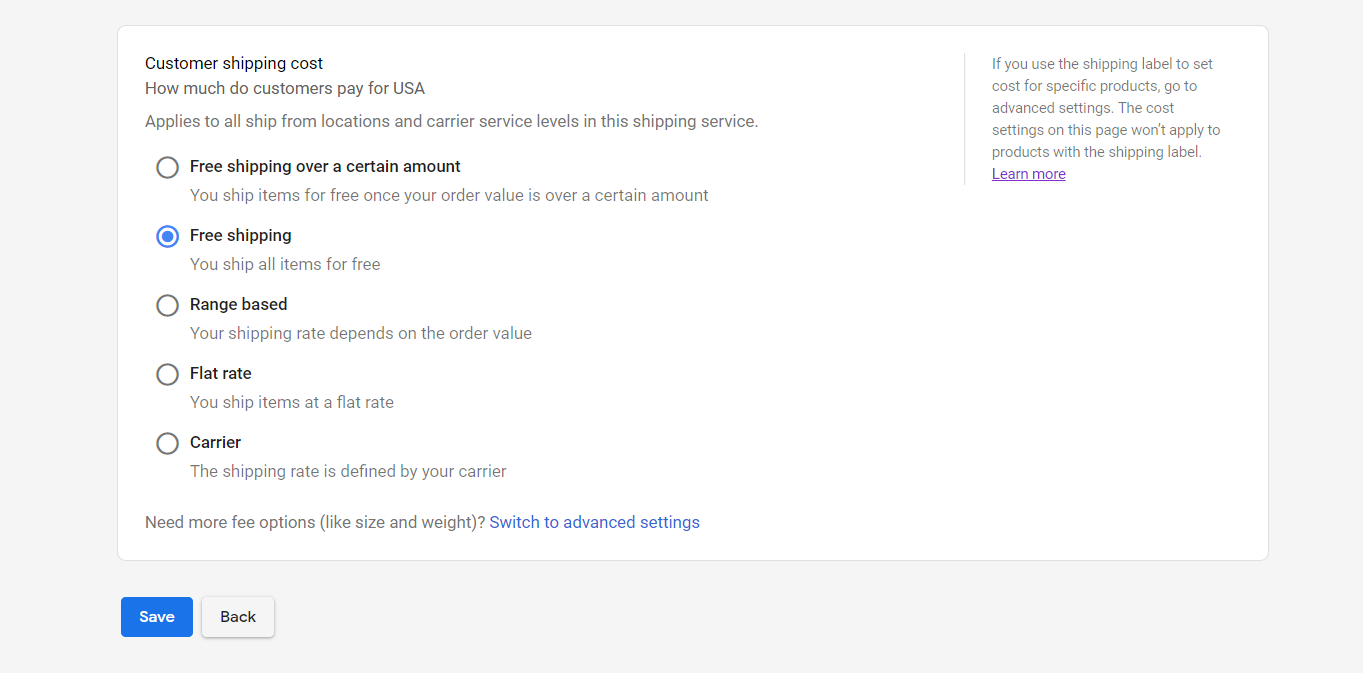 Set your holidays if needed

Once configured properly, you should be able to see the shipping setting applied to your product.

Item disapproved due to policy violation
Unlike the other errors we've covered in this article - this one doesn't give you clarity on what is wrong with your feed. If there is 1 conclusion to be drawn from the error message alone it would be that Google's algorithms have found elements in your feed (or in your online store), which are not in line with Google Shopping policies.
Which elements? That remains a mystery, until…you contact Google.
To sort out this issue, you first need to learn the answer to the most fundamental question: 'what was the policy violation on my part?'. Once you've established the exact reason for disapproval - it's time to fix the feed (if that's where the issue lies). Or, make suitable changes in your online store.
Fixing the feed will mean different things depending on what the violation is. It might involve:
Removing products from the feed

Replacing or removing banned words from titles or descriptions

Changing images

And many more...
Also, if you feel like you've fixed all the issues & exhausted all your options and your product is still disapproved - it might be that it has been blacklisted by Google
Conclusion
This article will help you avoid some common errors related to Google Merchant Center accounts in general and to your products in particular. Only by learning about Google policies can you easily solve the problem. And when you do it well, you have gone through half of the way to a successful shopping campaign to drive more and more sales.


Read more about Google Shopping Campaign