APP CONFIGURE TUTORIAL
————————————————————————————————
Created: March 2020

Email:

This email address is being protected from spambots. You need JavaScript enabled to view it.
This is documentation of the Google Shopping Feed Pro app application, which will help you to configure your app in the right way.
Sign up for Google Merchants Account
Go to merchants.google.com and then log in with your Google Account to get started.
Enter your business information
Your business information will be used in each program you sign up for. Add the country where your business is registered as the "Business country."
The business display name can be your business's name, website's name, or store name.
Note: The name you enter as your business display name will be used as your Merchant Center account name, and users will see this name on Google.
The time zone for Merchant Center is automatically filled based on the country you choose in the "Business country" section.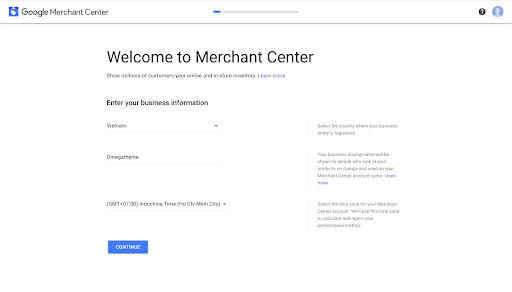 Click Terms and Conditions to view the full document of the agreement.

 Choose a program that fit your business objectives
After you've entered your business information, you will be able to select programs, choose the programs that meet your business objectives. You'll be able to add other programs, or cancel existing ones, after completing the enrollment process.
Information you share when you enroll in one program will automatically populate in any other programs you choose. This means you'll only need to enter once for program information, such as product data or shipping policies.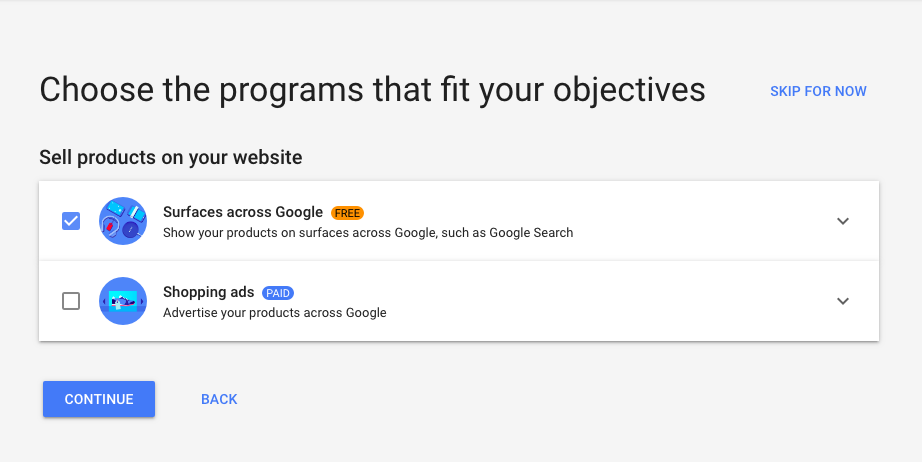 Programs
Complete your account sign up process 
You will see a summary of the settings on your Google Merchants Center before proceeding to the completion step.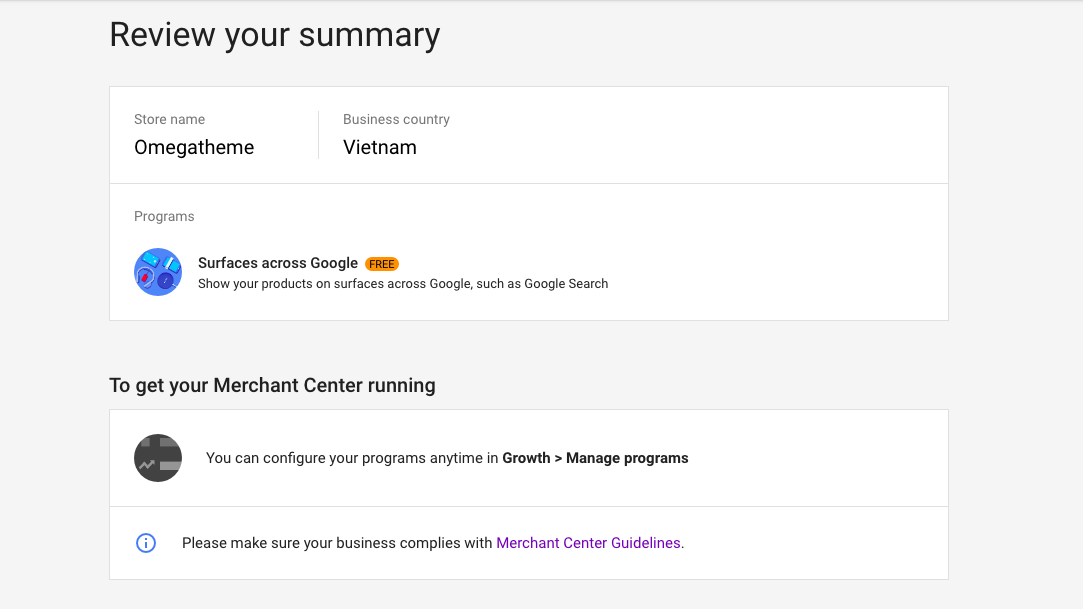 To activate your account, click the Create Account button.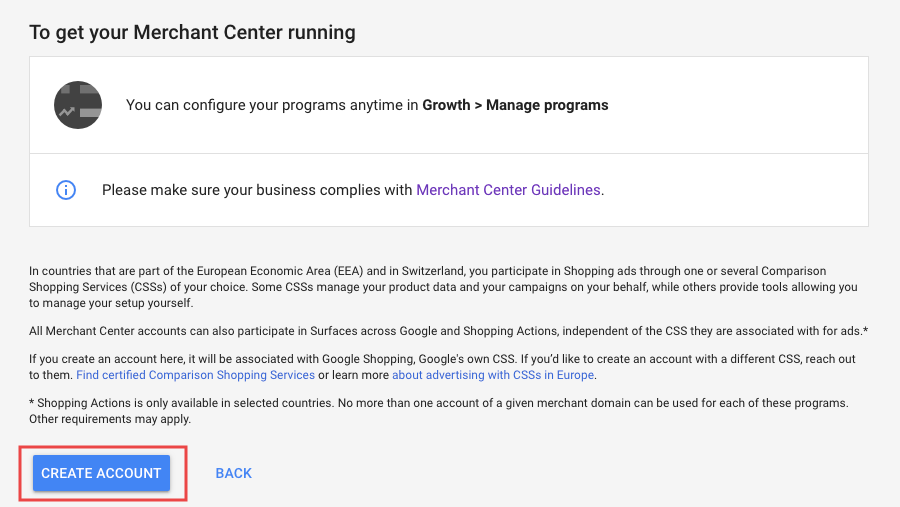 You then will move to your Google Merchant Center account's interface:
The Google Shopping Feed Pro app automatically syncs your products and relevant information about your Shopify store with the Google Merchant Center.
The Google Shopping Feed Pro app will automatically sync the products on your Shopify store with Google Merchant Center.
Sign up for Facebook Business Account and Facebook Store 
To start using a business account you need to create a business account, you can immediately create this account based on your personal account by logging into your Facebook personal account, then access business.facebook.com, click Create account.
Enter your business name, or personal name, then press Continue. 
Enter your name & email and click Finish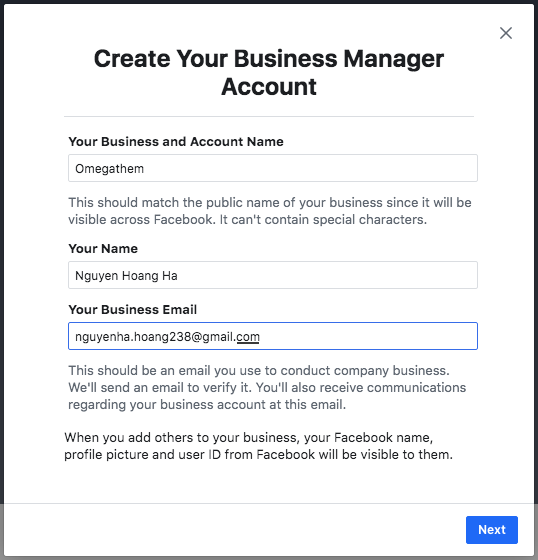 Enter other details about your business: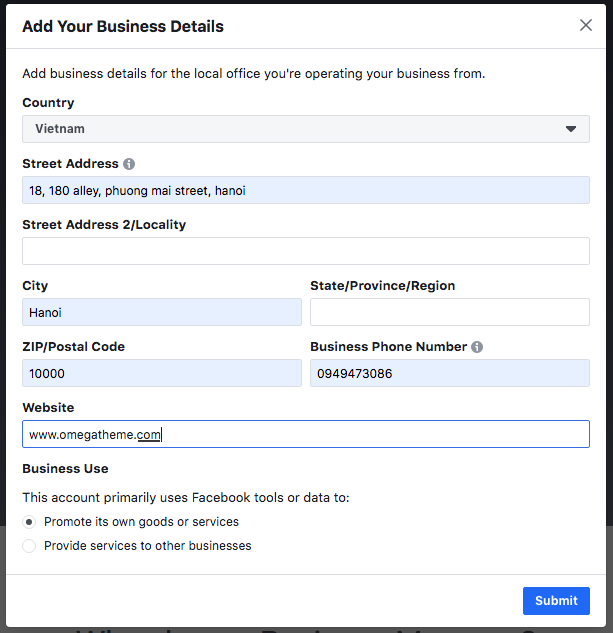 As you have created a business account, the business manager interface appears as follows: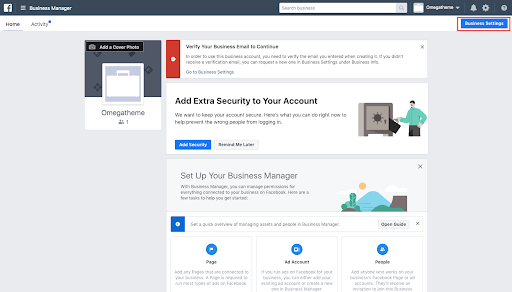 Click on Business Settings button in the upper right corner will lead you to the following interface:

Create a new Fanpage from your Business account
In Business settings, go to Page section: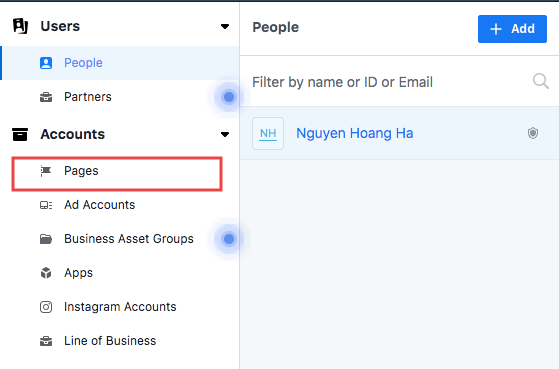 There are 3 options for you:
Add Page: If you already have a Fanpage in your personal account, select this option.

Request access to the page: If you want to request administration of other people's pages. They need to agree to be able to manage it.

Create a new page: Create a new Fanpage in the business manager
Option 1:  Add the created fanpage
Enter the name (or link) of the Fanpage that you are administering, then click Add page.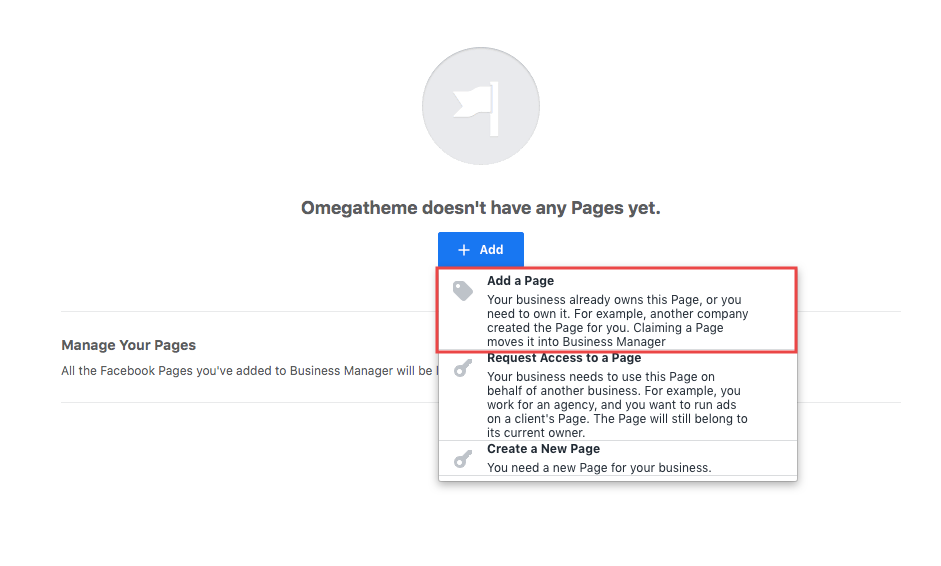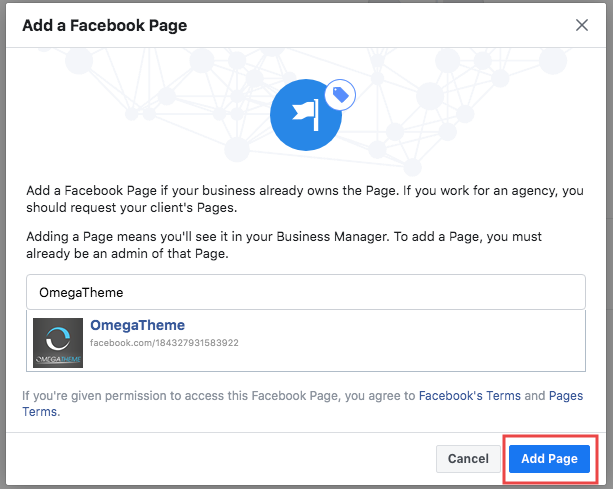 Option 2: Create a new fanpage
If you haven't created any Pages yet, you can now create a Fanpage in your Business account.
Go to Business Settings => Page => Add, but this time choose Create a New Page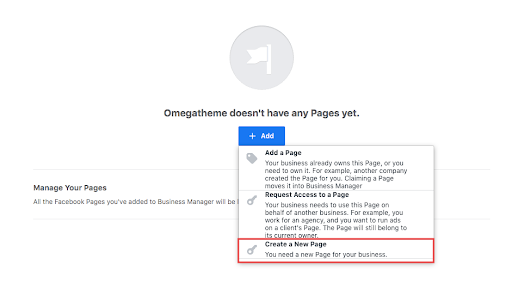 Next, select the category for Page, choose the best option for Facebook to optimize the page support features.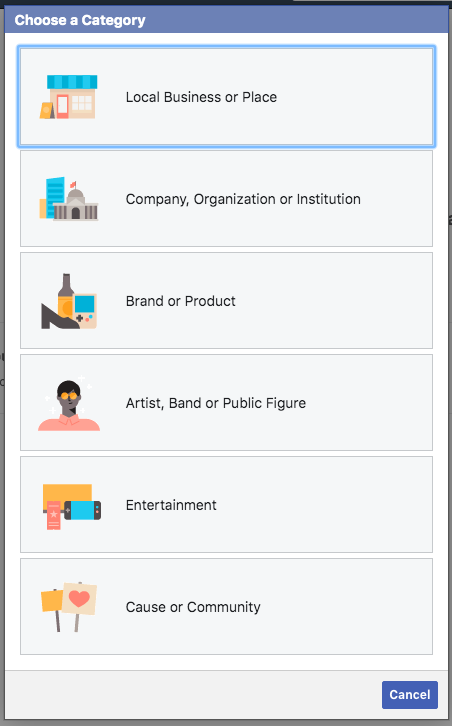 Fill in the information that Facebook requires such as Page name, category, address.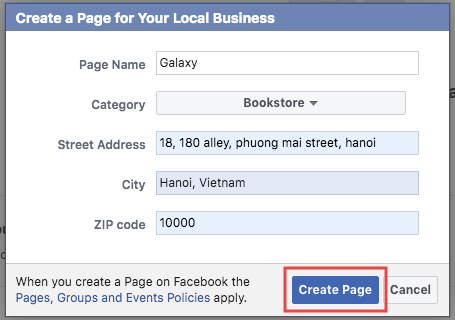 To finish, click View page. Your page will be successfully created and will be displayed in the Page section in Business settings. 

If the page setup is complete without a store button then go to settings and change the page template to a shopping page.


Should you need help with the configuration process, please don't hesitate to contact our support center at This email address is being protected from spambots. You need JavaScript enabled to view it..
What our app does: We pull product data from your Shopify. You create feeds out of those, we submit feeds to Google Merchant through the Content API method. Items arrived at and approved by Google Merchant Center can from then on be used in different Google Programs, namely Free Listings, Enhanced Free Listings, Dynamic Remarketing, Shopping ads, and soon, local ads and local free listings.

What our app hasn't supported

: Buy on Google, Google Customer Reviews, Product Ratings, Seller Ratings, and Promotions. Got a request? We'd love to hear, our

support

is available.

Waterfall Sync happens by default, as scheduled
The Sync Flow of Product data changes happen in this direction: Changes in Shopify → Changes in app → Changes in Google Merchant product data
This means the main source of truth is in your Shopify product tab. Changes in Shopify's product data fields and inventory changes will be reflected in in-app product data, hence Google Merchant item listing data.
Sync back to Shopify is optional
The good news: You can choose whether to sync changes in-app back to your Shopify or not
Use case: You want a different title, description, or image optimized for Google while keeping your Shopify data uniquely tailored to the storefront.
Before you go on with creating your feed, please ensure you have met all the basic Google requirements:
This is to ensure you have the right to submit products from the store to this Google Merchant account. Not sure how to do this? Find the answer in the How-tos section or contact us!
Make it accessible and easy to find on your site. Make all the requirements, timeframe, policies where the return and refund apply more understandable and upfront.
Even if you don't offer returns or refunds, still state your policy explicitly.
Make sure you're the direct seller, not a middle man (affiliate) so Shoppers can buy directly on the landing page.
Use the same languages across:
Your website
The product data that you submit
The language you select when registering your product data
Ensure information are collected on an SSL-protected page
Don't sell your users' contact info
Don't use users' personal information or images in ads without their consent
Your site's primary purpose shouldn't be to collect users' personal information
Don't offer free items or incentives except in certain circumstances:

With the purchase of a product
As part of a marketing campaign
When the primary purpose is not to collect personal information from users
At least every 14 months so that your account stays active
More