SyncTrack - Add tracking info - #1 seller best practice: add tracking information
Engine:

Ecwid app

Featured:

✓ Safe and easy setup

✓ Adding tracking info to Paypal

✓ Fully transparent information
About SyncTrack - Add Tracking Info
#1 recommended best practice to reduce the likelihood of having a Paypal reserve applied to your account
Add Tracking Info takes care of submitting tracking information from Shopify to PayPal. You can spend more time focusing on your business, driving sales & optimizing the conversion rate.
Overview
Once you have fulfilled orders paid by Shopify, SyncTrack Add Tracking Info will be noticed, get the tracking information, and send it to PayPal automatically. Adding tracking info is one of the requirements and it protects you from disputes like Unauthorized Transaction or Item Not Received. This information enables you to access funds more quickly, provide seller protection, and keep customers informed.
Why use SyncTrack Add Tracking Info
Adding tracking info to PayPal improves cash flow and reduce chargebacks, disputes, and refund from customers for these reasons:
When a red flag is raised regarding your account, PayPal may apply a reserve on it. By adding tracking info, you can improve your account's track record - and have the reserve level lowered (or even completely removed).
When there's a rocket in sales or disputes or chargebacks level, PayPal is holding your payments for up to 21 days to protect the buyers. By adding tracking info, you can access your funds right after delivery with supported carriers.
PayPal's Seller Protection reduces claims and chargebacks and helps prevent fraud. by providing tracking information through PayPal, customers can keep track of their transactions. Also, it is one of the requirements and protects you from disputes like Unauthorized Transaction or Item Not Received.
Highlight features
Safe and easy setup by creating a dedicated PayPal sub-account

Connect to multi Paypal accounts to save your cost

 A quick and easy way to activate tracking info submission to Paypal 

Real-time access to submission status

Always update reports of fulfilled orders and tracking info submitted on the last 30 days/today/this month/last month/all time

Auto-add tracking info to Paypal

Sync tracking numbers from old orders to Paypal (available from the basic plan) 

Access funds more quickly

Paypal's seller protection 
APP CONFIGURE TUTORIAL
————————————————————————————————
This is documentation on the SyncTrack Add Tracking Info application, which will help you to configure your app in the right way.
Having tracking info submitted to PayPal - in 3 easy steps
⭐️ Account Setup
Install the app on Shopify and connect the app with your PayPal account to let the app sync tracking info to Paypal.
Tutorial on how to create a new user for your Paypal merchant account:
Step 1: Add SyncTrack Add Tracking Info app to your app store. 
Step 2: Install the app to your store, then the app will take you to the app admin 
On the Paypal Credentials tab, Click Connect with Paypal.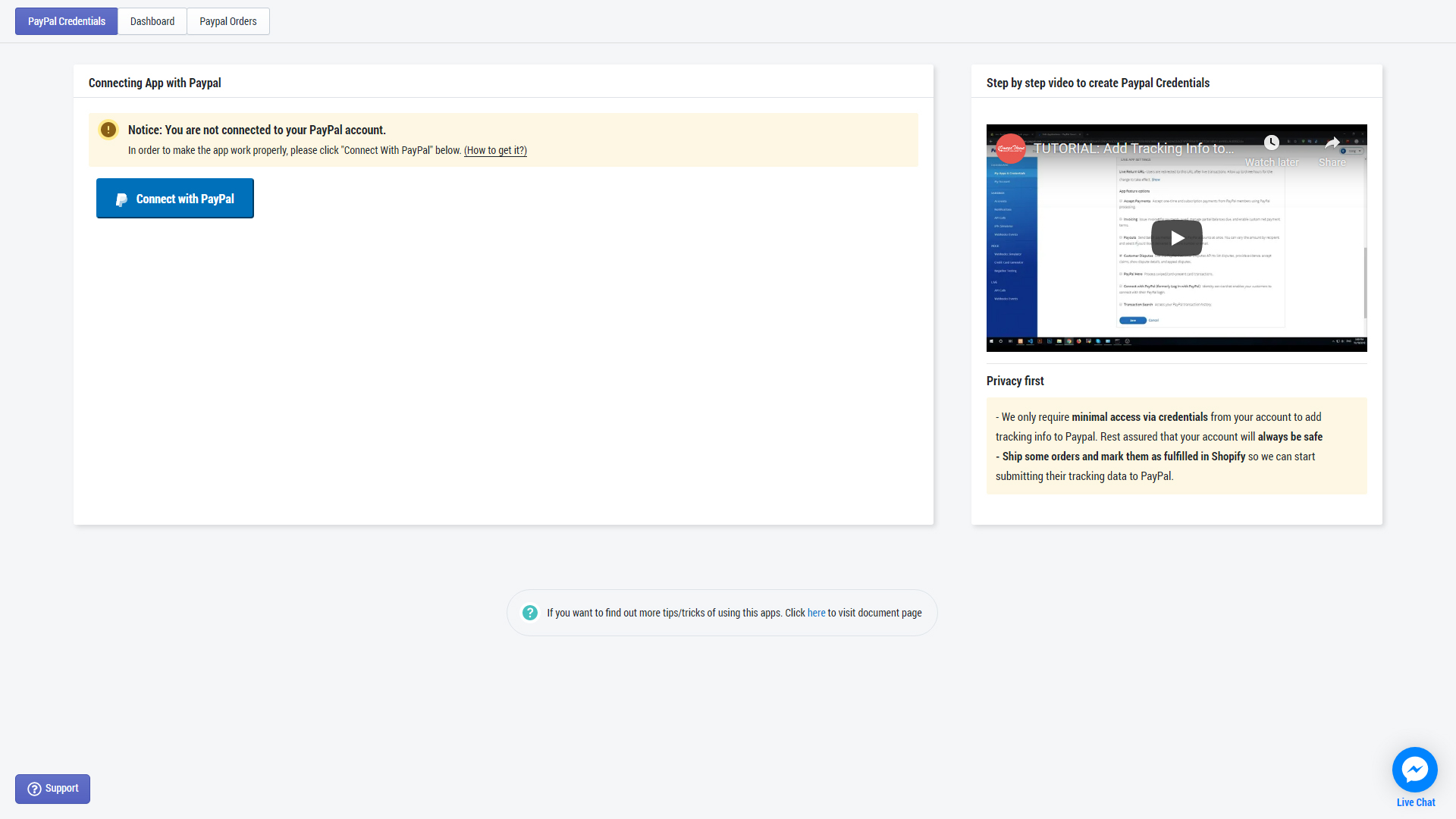 Step 3: Log in to your Paypal account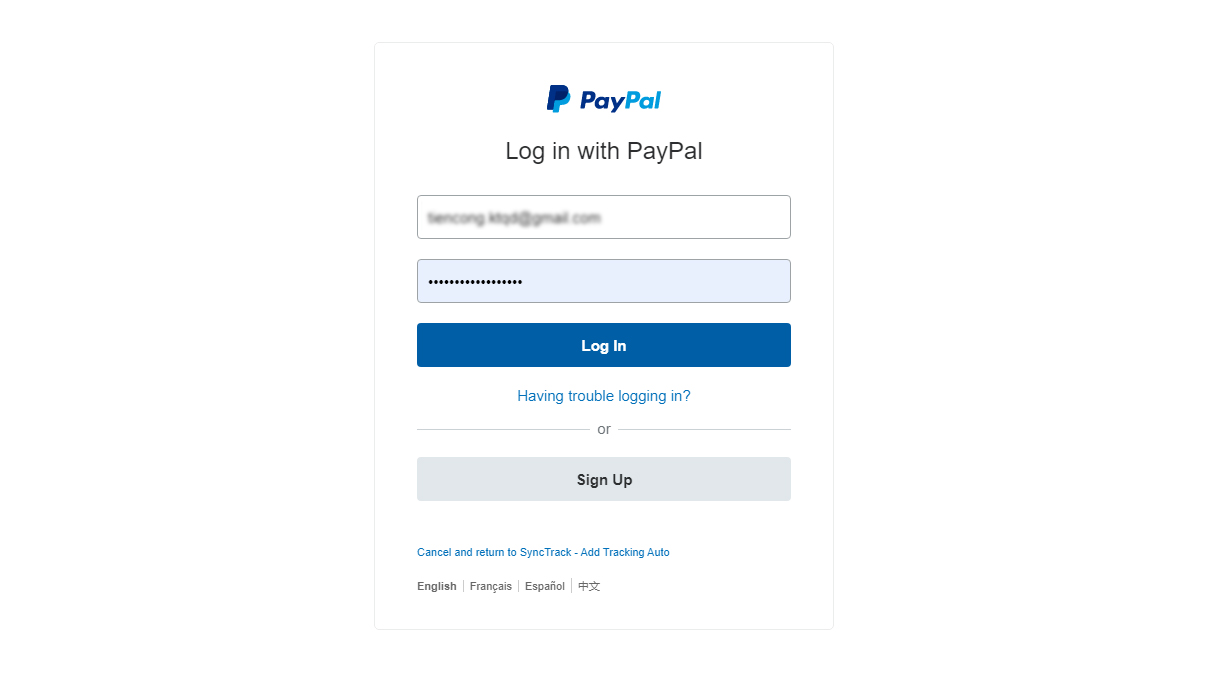 Step 4: Agree and connect your account with SyncTrack - Add tracking info app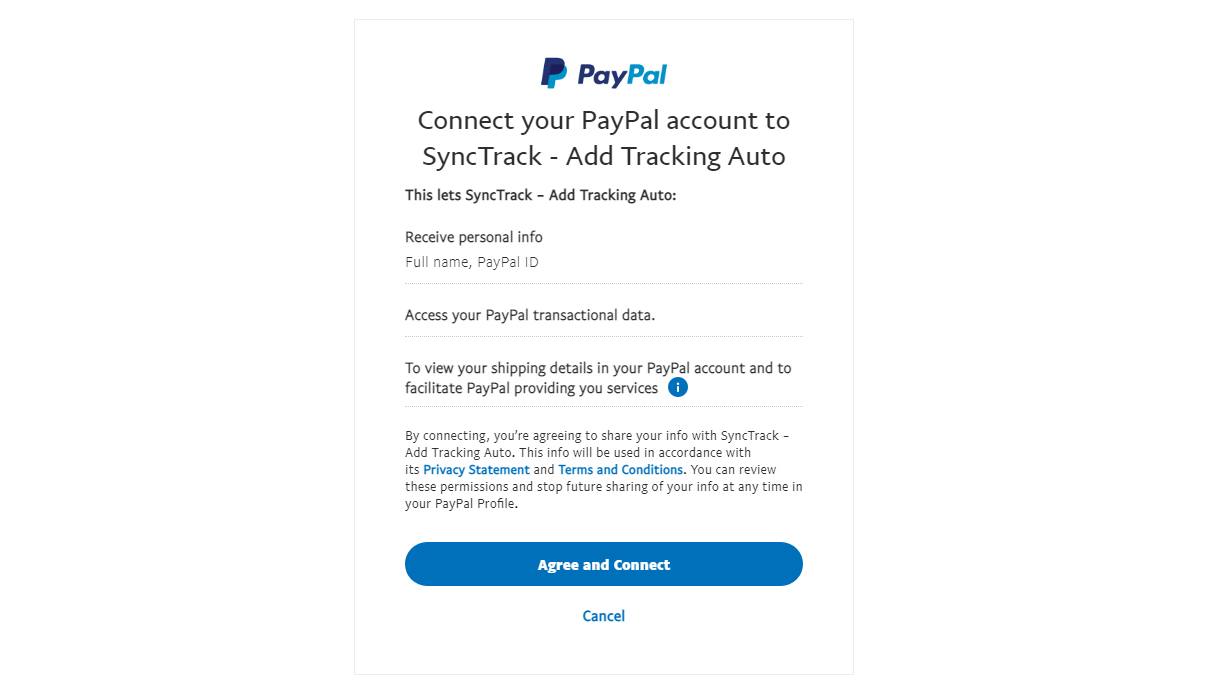 Step 5: After connecting, it will take back you to the app admin, where you can see the "confirmed" status and credentials ID. Then, the app is ready to add tracking information to PayPal once the orders are fulfilled.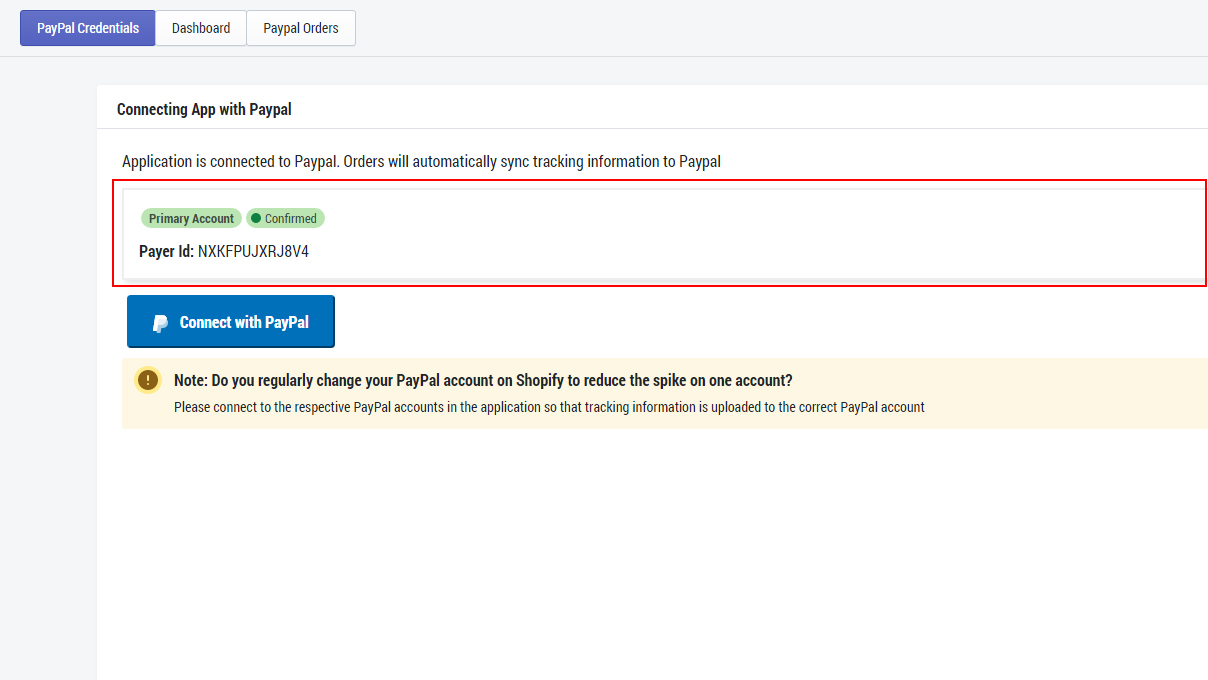 ✏️ Watch the tutorial video to have a better visualization of how to create a limited-access user on PayPal:
https://www.youtube.com/watch?v=939S7HqgJi4&feature=youtu.be
⭐️ Automatic Notification
Every time an order is fulfilled and tracking info is added to Shopify, your store notifies us instantly and automatically by Shopify. It will give the order a tracking number and tracking company. We will submit these two to PayPal. This tracking number corresponds to each shipping unit.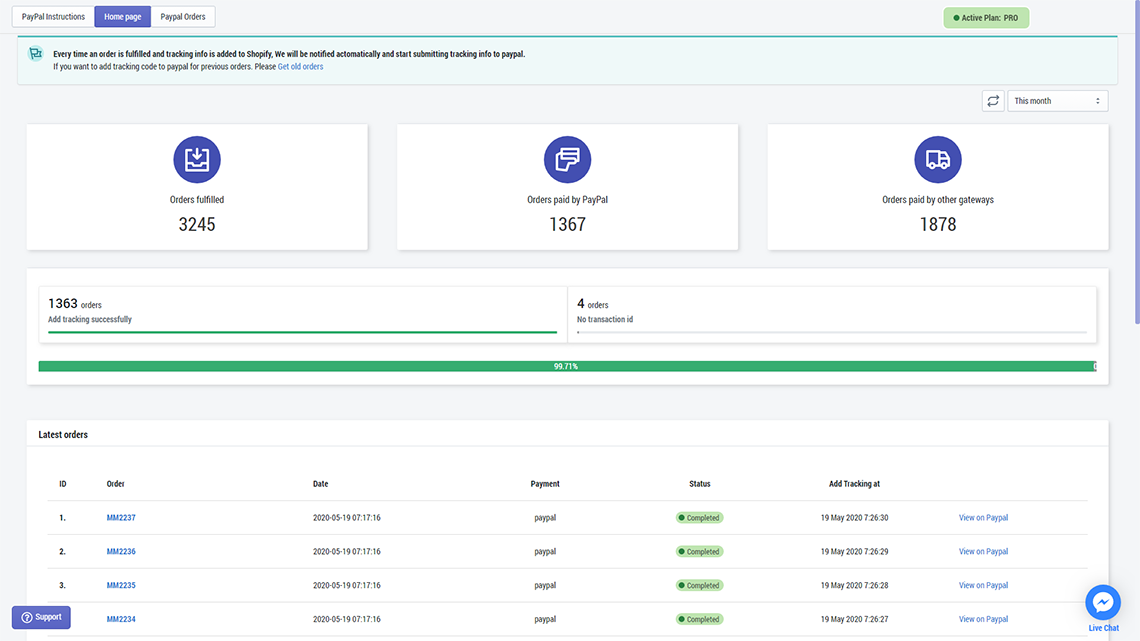 Real-time access to submission status: 
SyncTrack - Add tracking info provides you with a piece of fully transparent information available of fulfilled orders and tracking info submitted to PayPal.
The data report is constantly updated to keep customers informed about their transactions.
You can review the tracking information for the Last 30 days / Today / This month / Last month/ All time.
⭐️ PayPal Account Status
Plan Package
In the Dashboard tab, you can see the current plan you are using and how many orders have been synced on the current month per your package.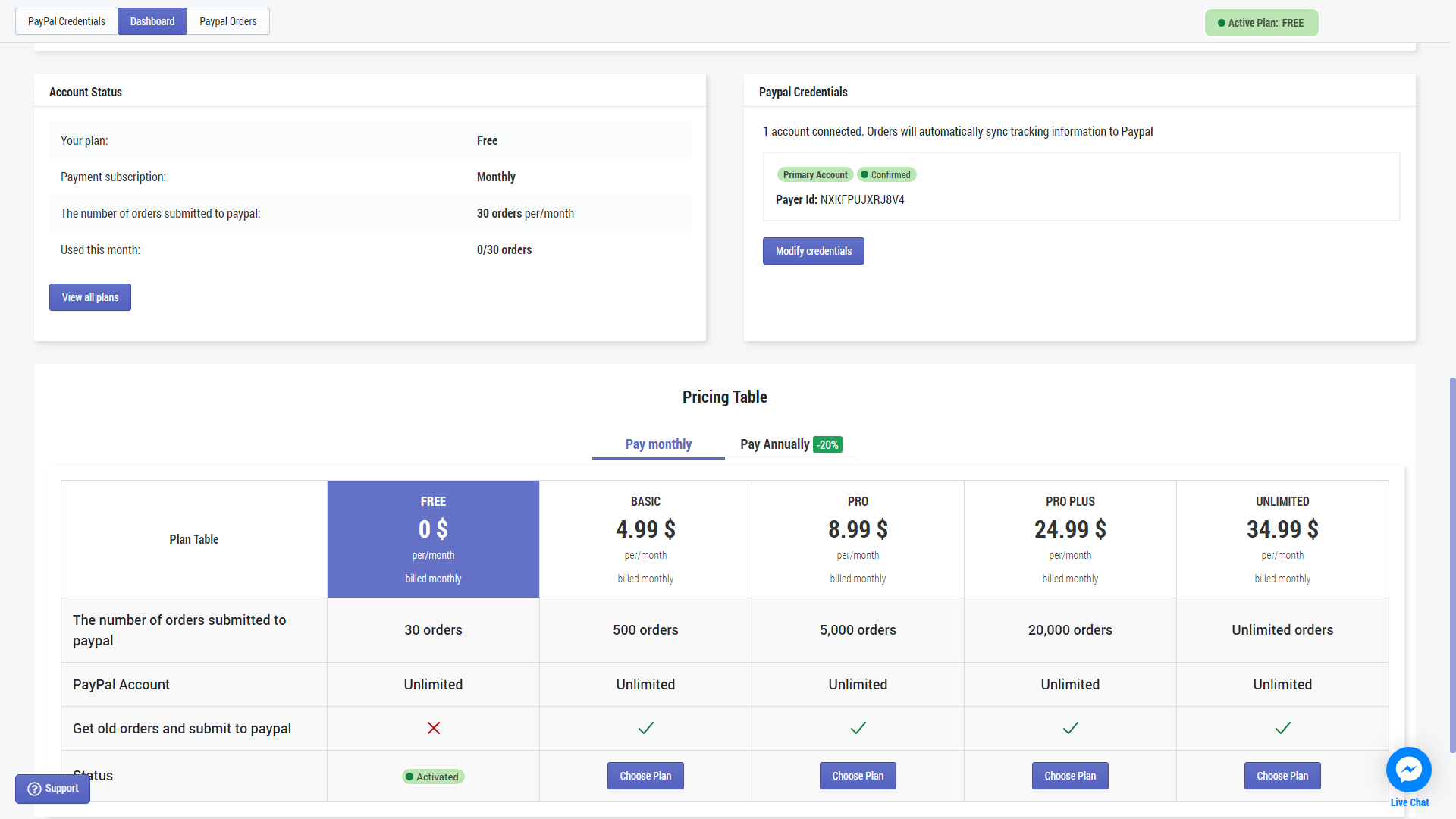 Choose a plan that fits your needs. 
Except for the UNLIMITED plan, the other three have a limited number of orders available for submission to PayPal. For each plan, we submit tracking information to PayPal for one order. 
The plan will be renewed every 30 days.
Paypal Credentials
 
The PayPal Credentials you created allow us to access your PayPal account.
The Client ID & Secret provide us minimal permissions to access your account to add tracking code to PayPal.
It is possible to change the credentials information by clicking on Modify Credentials.
✏️   NOTES: 
Get old orders

function allows you to sync tracking numbers from old orders to Paypal, you need to grant the app access to use this. 
Upload CSV function lets you upload orders from other platforms with a template file. The app will automatically detect the info and help you add tracking numbers to Paypal. 

 ⭐️ Payment gateway support 
Synctrack supports almost all of the payment gateways, except CheckoutX because checkoutX does not send transaction_id paypal, and there is not enough information to send tracking. 
---