Testimonials Slider is an add-on for Joomla selling-websites. Your private accounts or opinions will help to put truth in with services/products on your website. So, how to show Clients Testimonials with Nice Effects on a Joomla website? Now it is really simply when you use OT Testimonials Slider to display customers' testimonials and publish it on your website. The following is our instruction to install and use OT Testimonials Slider module. 
The Features of Testimonial Slider:
+Display testimonials from customers or clients in a slider form or with grid and list layout
+Support Responsive Design
+Easily install and customize, with usage guide provided.
+The Slider can also be inserted anywhere in the template file by using simple load module.
+Easily create your own slider style suitable to your template without knowledge of PHP, HTML, or CSS.
+Check Slider Preview in admin panel
+Select Avatar Image
+Get Support through Omegatheme Support Forums
Firstly, you need to download OT Testimonials Slider module (you must be logged in before download)
Downloading successfully, install this module on your website.
With this module, you can be easy to use for adding unlimited testimonials. You can enter necessary fields of testimonials like text field, Avatar, Name, Email, Website, Work, Phone, and finally give Star rate. There are 5 layouts for you: slider with 1 column, slider with 2 columns, slider with thumbnails, grid layout, and list layout.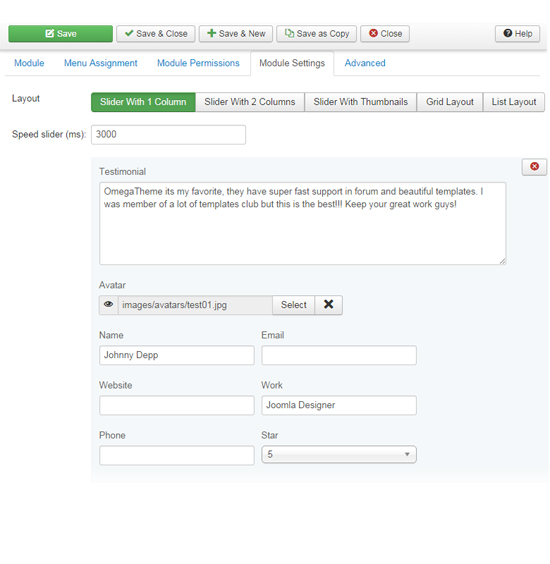 Finally, assign this module to a place or page that you want to display on your website.
Thanks for reading.