OT Testimonies
It is a simple looking but useful testimonial extension for your website. You can show unlimited testimonials without headache. It can also be inserted anywhere in the template file
OT Testimonies is a high-customized Joomla 3 module without fee. It helps you to show testimonials from customers, readers and other users. Normally, people want to know users' opinions before making a decision. That's why testimonials should be showed on your joomla website. Joomla Testimonials sliders module is built on the base of Bootstrap Carousel, and be easily to turn into action on joomla templates which are developed on bootstrap 3. 
 It is a simple looking but useful testimonial extension for your website. They are able to show unlimited testimonials using module setting, add on more testimonials that you want on the joomla website with diversified layouts, such as:
+ Testimonials slider with 1 column
+ Testimonials slider with 2 columns
+ Testimonials slider with thumbnails
+ Testimonials with grid layout
+ Testimonials with list layout

Note: Testimonials Slider is compatible with most of all the browsers like Firefox, Internet Explorer (IE9+), Chrome, Opera, Safari etc.
OT testimonials slider is easy to install, use and customize. I have also written a detailed article to show how to use Joomla testimonials module for Joomla templates as an useful instruction document. 
Quick Info
Version
1.0.0
Released date
2016-8-16
Responsive supported
Yes
Available for

Joomla! 3

 
Features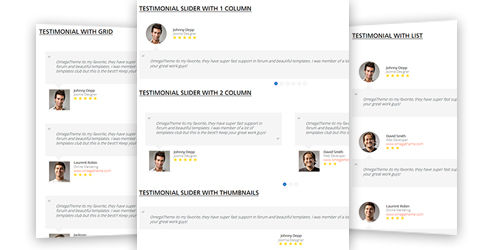 Display testimonials from customers or clients in a slider form or with grid and list layout
You have various ways to display the testimonials from customers or clients: in a slider form or with grid and list layout. Just one click and will have a beautiful testimonial section that fits your website's design.
---
Support Responsive Design
OT Testimonials Slide comes with responsive design. You can view the module display perfectly on any mobile device as well as desktop. For mobile edition, the module is very lightweight due to our high optimization.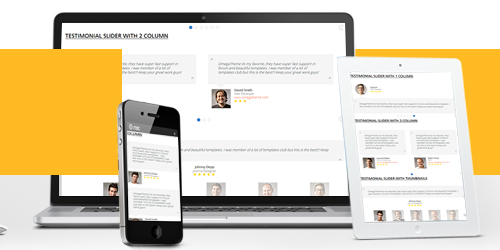 ---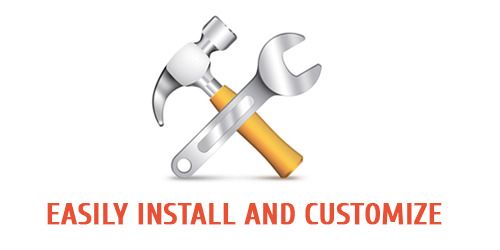 Easily install and customize
It's dead-easy to use OT Testimonials Slider. Module can be effortlessly configured by many fundamental parameters. We also provide a very detailed user guideline to get you started within few minutes.
---
Publish anywhere
You are free to choose the place to display testimonial. The Slider can also be inserted anywhere in the template file using simple loading module plugin.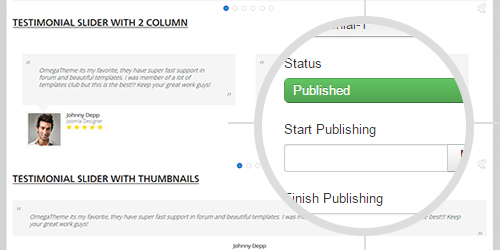 ---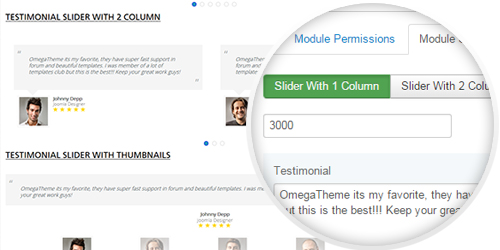 Easily create your own slider style
You will find it simply to create your own slider style suitable to your template without knowledge of PHP, HTML, or CSS. The slider preview in admin panel will let preview it live before publishing.
---
Select Avatar Image
With OT Sliders Testimonial, you can add an avatar to the testimonial's author. This avatar frame can be set as "round" or "square" depend on your prefered style.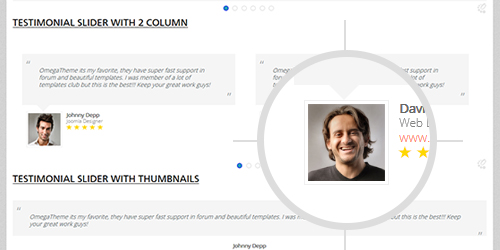 ---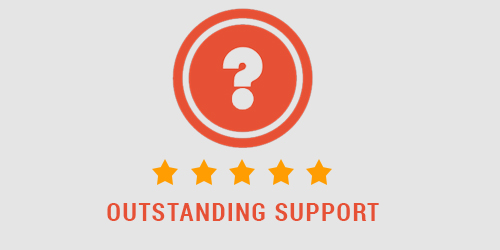 Get Support through Omegatheme Support Forums
If you have any question, you always can get Support through Omegatheme Support Forums. We will investigate the issue in-depth and provide a solution quickly.
---