Wordpress Theme Documentation
By this tutorial, I will show you how to install a OT Wordpress Theme.
Step 1: Downloading a Wordpress Theme package from: https://www.omegatheme.com/wordpress-themes  after you have zip file, you should extract it first. In this tutorial I use OT Cosmetics Theme so I have wp_cosmetics.zip fileand extract it, we have 4 subfolder:

Step 2. Creating Database
Creating database on your local server is very easy. Just login your phpmyadmin then type name of database that you want to use for your site. Here I'm creating database named ot_cosmetics. 
Step 3. Install newest Wordpress version: Now you install Wordpress in your site/your local
If you have not set up your Wordpress installation yet, download the latest Wordpress version here: http://wordpress.org/download/.
You can find info on installing wordpress here: http://codex.wordpress.org/Installing_WordPress.
It is worth checking out their famous 5 minute WP install tutorial.
Note: In this documentation I am assuming that Wordpress is installed directly in the root of your server. If it is not, you may need to adapt some of the file and folder paths provided below in the documentation to reflect that.
Note: I am assuming your starting point is a clean default wordpress instalation. Please only make configurations when you are asked to as this will ensure that you install and configure the theme without a problem. Thanks!
Step 4. Install theme's plugin: Go to Plugins and you can install and active all plugin in folder ot_cosmetics_plugins.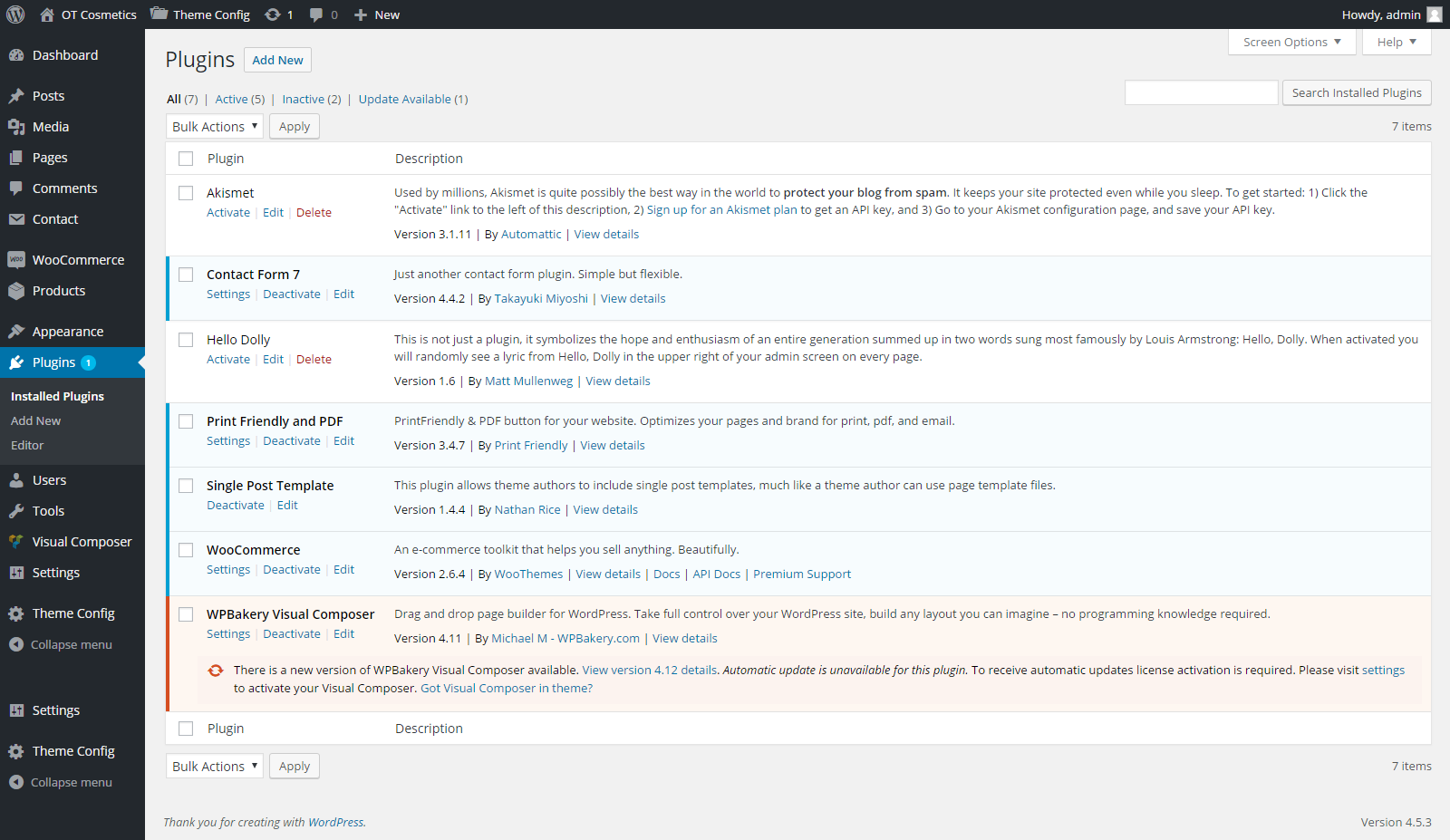 Step 5. Install OT Wordpress Themes: 
OT Wordpress Themes can be installed in two different ways:
Installing through wordpress
Uploading through FTP (File transfer protocol)
Note: because the themes file size is big, depending on some server configuration you might not be able to install it through WordPress and might need to upload it through ftp.
Installation through WordPress:
Installing a theme through wordpress is quite a simple process. After you have logged into wordpress account and are ready to go, in the admin panel's sidebar navigate to appearance and then select themes. After that, click on the install themes tab and select upload from the navigation bar right below it. Click "choose file" button and locate your theme zip file (ex: ot_cosmetics_themes.zip) then hit install now. After Theme has been installed locate and click activate.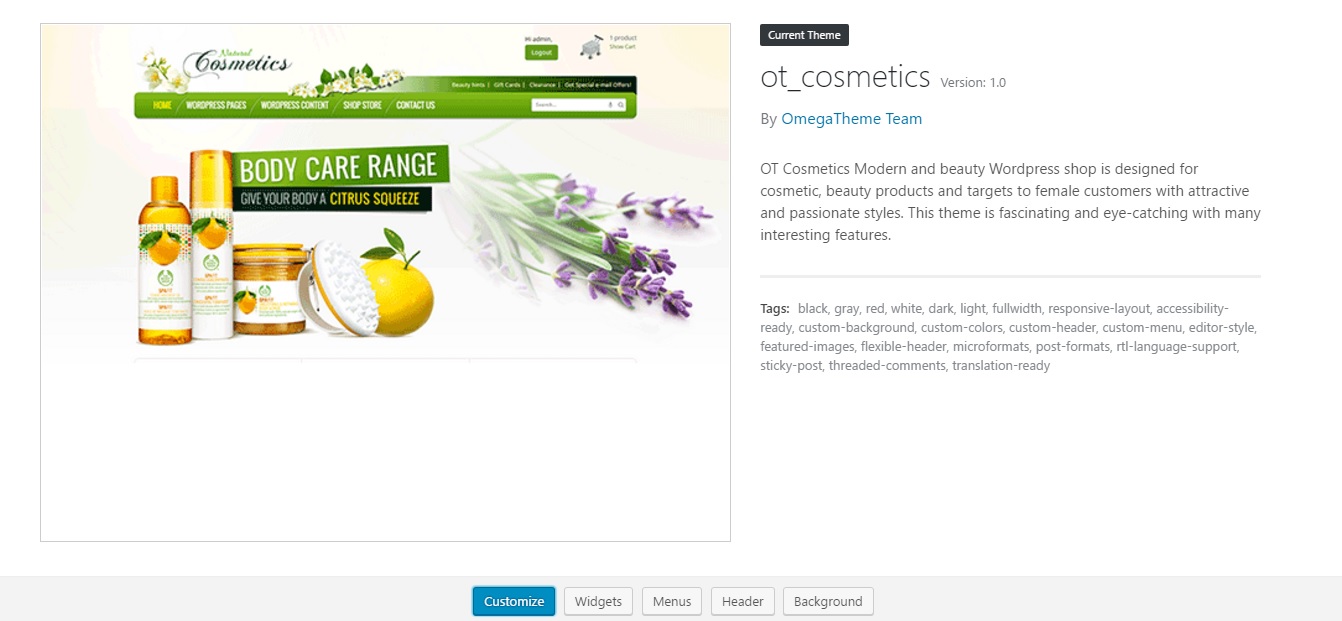 Installation Through FTP
Use an FTP client (for example filezilla) to access your host web server
Transfer the /ot_cosmetics subfolder from /themes to your server in the wp-content/themes
Once the theme is uploaded, you need to activate it. Go to Appearance > Themes and activate your uploaded theme.
Step 6. Import Demo Content: 
Browse the included ot_cosmetics_demo_content (XML file) from /Demo content and Upload the XML file.
You will first be asked to map the authors in this export file to users on the blog. For each author, you may choose to map to an existing user on the blog or to create a new user.
WordPress will then import each of the posts, page, custom post types, comments, and categories contained in this file into your blog.
Demo Theme Config: Back-end => Theme Config in Admin Bar => Import/ Export => Import from File. Browse the included ot_cosmetics_demo_theme_config (JSON file) from /Demo content
You should be the one to create the widgets. To create widgets, navigate to the left sidebar menu of the WordPress' Dashboard, then Appearance > Widgets. Just drag and drop the widgets on to the widgets area on the right side of the widgets page.
After this, you should also update the Menus by going to Appearance > Menus. Locate the Theme Locations box and select from the drop-down "Primary Menu" as respect to the locations the selectbox label indicates. Click the Save button under it to save the changes.
Done! You should now have the dummy/demo content similar from the Live Preview of the theme.
Step 7. Permalinks Settings, Set up the home and blog & Set up the main menu: 
Permalinks Settings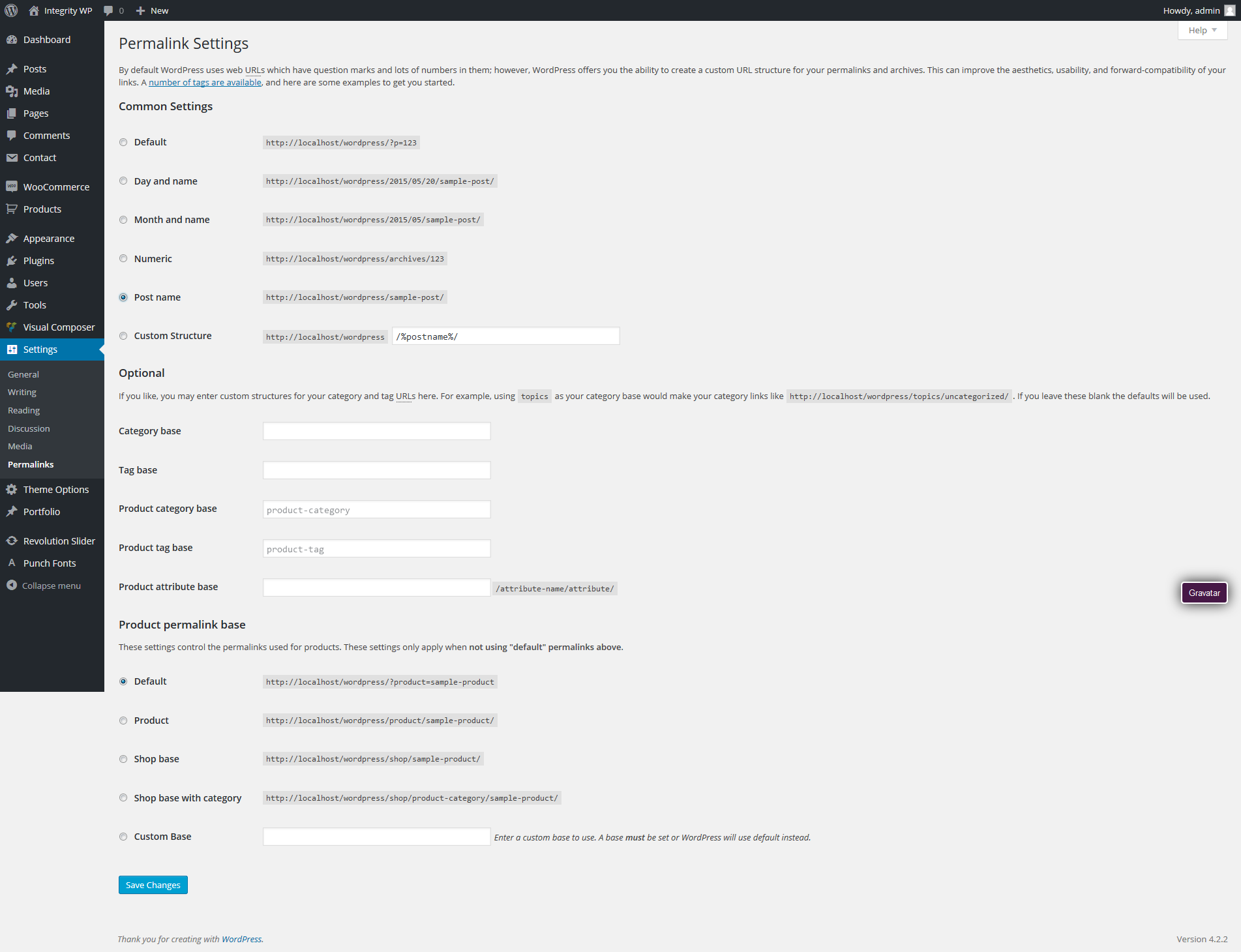 Go in Settings > Permalinks
Choose the Post name from the permalink Common Settings
Save Changes
Set up the home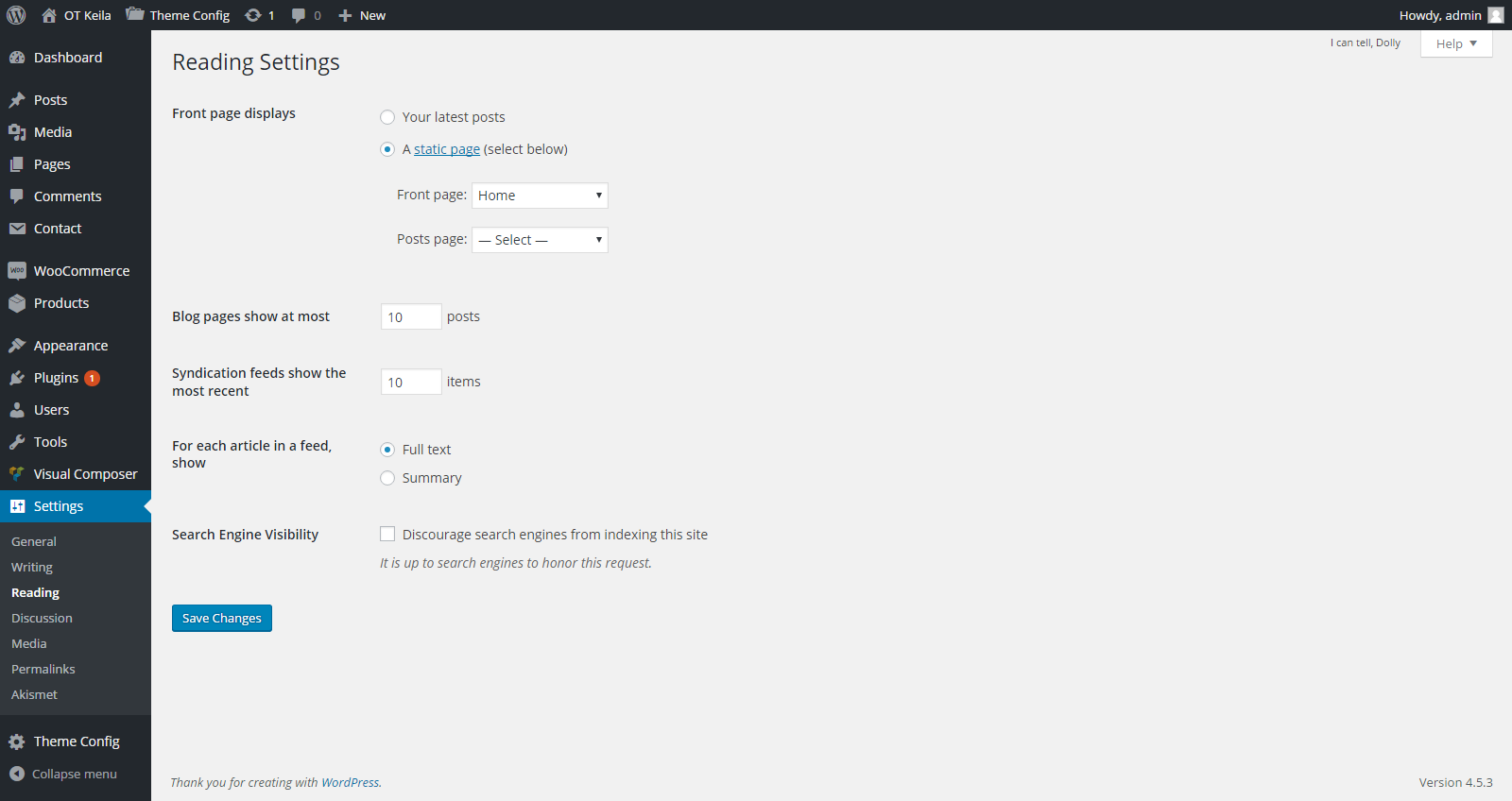 Go to Settings > Reading Settings.
Inside "Front page displays", select "A static page"
Assign "Home" page to "Front Page".
Save Changes
Set up the main menu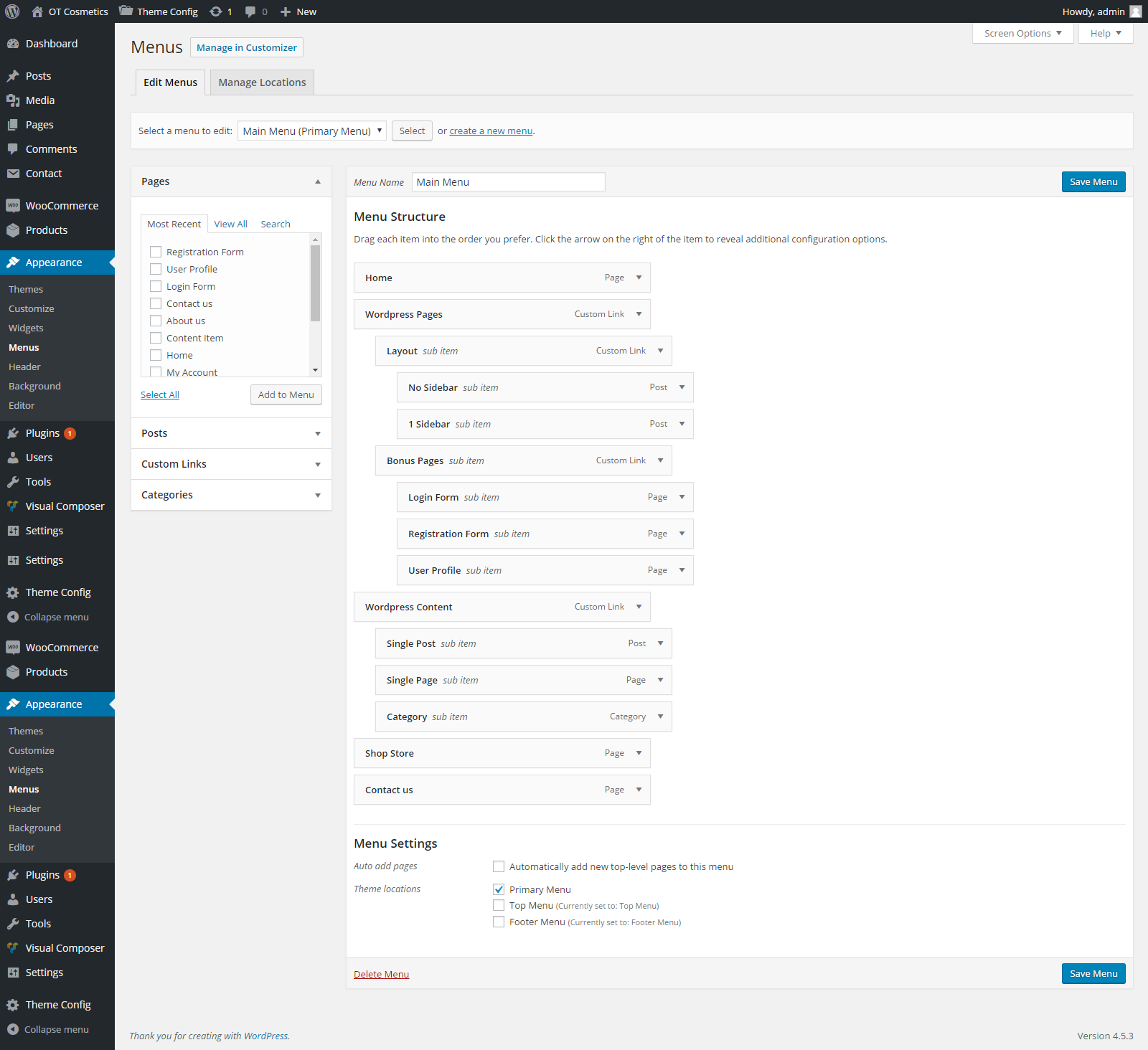 This Theme uses wordpress built-in menus feature which can be found in Appearance > Menus.
How to add a new menu:
Create the menu:
Go to Appearance > Menus
Add Menu Name
Click Create Menu
Assign the menu:
Go to Manage Locations
Assign the menu to the "Primary Menu" Theme Location
Add content in the menu:
Select the pages that you want in the menu
Add to Menu
If you want to add external links then use the Custom Links box
Re-arrange selected and created items. To make dropdowns just drag and drop an item under another and slightly to the right.
Save Menu
Set up Header

The logo can be set in the Theme Config > Header > Logo
Choose logo image.
Step 8. Add Widgets: 
WordPress Widgets add content and features to your Sidebars and Footer. Examples are the default widgets that come with WordPress; for example post categories, tag clouds, navigation, search, etc. Widgets require no code experience or expertise. They can be added, removed, and rearranged on the WordPress Administration Appearance > Widgets panel.
Guide to use widgets feature :
Go to Appearance > Widgets.
Choose a Widget and drag it to the sidebar where you wish it to appear.
Once you dropped the widget to widget areas, WordPress automatically updates the Theme and it will appear in its area.
Preview the site.
Return to the Widgets Panel to continue adding Widgets. OT Cosmetics has 2 custom widgets: "Best Seller Products" & "OT Product Categories"
To arrange the Widgets within the sidebar or Widget area, click and drag it into place.
To customize the Widget features, click the down arrow in the upper right corner to expand the Widget's interface.
To save the Widget's customization, click Save.
To remove the Widget, click Remove or Delete.