System Requires
Joomla version compatibility: Joomla 1.5  & 1.7
PHP Version: PHP 5
Installation
- Quickstart Installation (View our tutorial)
- Template installation (View our tutorial)
- Module slideshow installation (View our tutorial)
Module Positions
The screenshot below highlights the module positions available in this joomla template. Please note that the OT Eminent template contains 11 module positions.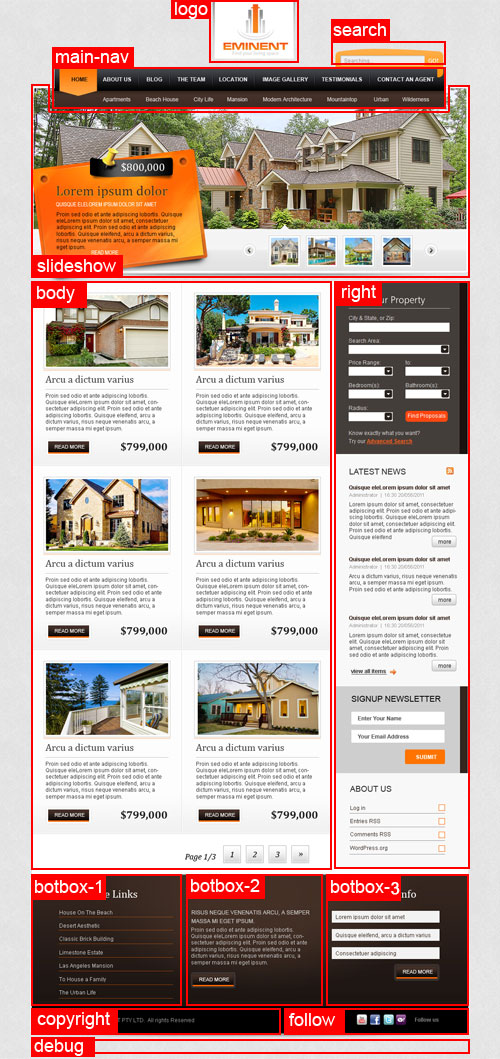 Descriptions
- Logo controlled by template, you can edit in css file or create custom html module and published to "logo" position. If custom html module published to logo position then template will automatically disable logo image from css file.
- Main Menu controlled by template too, you can select dropdown menu or supersucker menu in template configuration. Then publish your main menu to main-nav position with parameters: Menu type: List; Always show sub-menu: Yes.
- Search is default joomla search module assigned to "search" position.
- Slideshow is featured OT Horizontal Slide Show module, it's a joomla content slide module, See screen shot for this module's parameters setting.
- Find Our Property is html custom module with Module Class Suffix: _advancedsearch
- Latest News is OT Mini News Module, see screenshot bellow.
- Signup Newsletter is custom html with Module Class Suffix: _newsletter
- Body frontpage overrided in  template, you can control parameters in Home menu with 2 columns, intro 6 ....
Template Configuration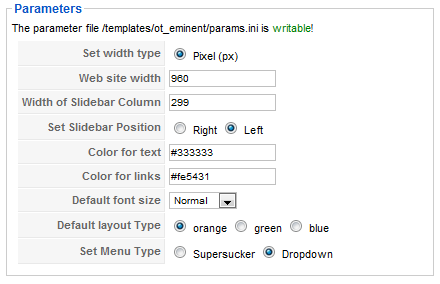 Slideshow Module Configuration

OT Mininews Module